The proposed $200 million chamber
#Drop that chamber now campaign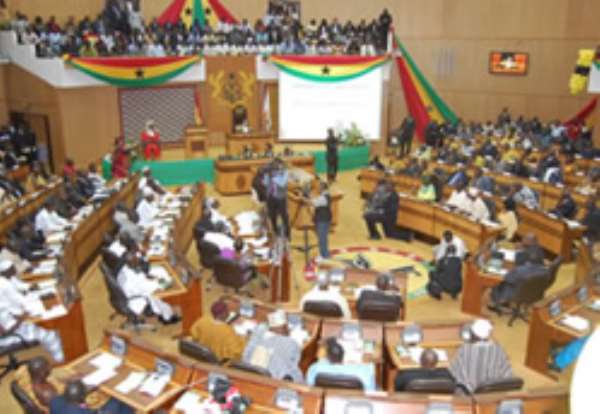 Though parliament has back-tracked on the proposed $200 million new chamber. It imperative for well meaning Ghanaians to look at whence the project and the implications of even such an idea.
There are a number of factors to consider as we dissect the idea as a whole.
The fact that parliament even considered the project in the first place means the body does not think about the very people they seek to represent. If you represent a people who still suffer various signs of poverty including pupils who sit under trees to learn in 20th century world and dilapidated classrooms where students are sent home when it is about to rain, hospitals that lack facilities and equipments. Then it is justifiable so that any attempt to live in luxury at the expense of the people would attract repulsive comments and rightfully so.
Let us consider the world's leading bearer of democracy vis-a -vis that of ghana. The United States with all its rich resources has a population of about 350,000,000 and it is represented by 535 congressional delegates, 100 serve in the senate and 435 in the House. By implication one congressional delegate represents about 654,206 people. Ghana has a population of about 30,000,000 and represented by 275 parliamentarians. On average each MP represents 109,091 people. One congressional person represents six times as many people as one MP in Ghana represents yet they are able to represent them effectively and put the executive in check for all its excesses. Whiles in Ghana representation is ineffective and executive oversight responsibility is nothing to write about. In Ghana, members of parliament do not make laws, they only approve bills prepared by the executive into laws. In US. Laws are originated and prepared by congressional leaders yet they have time to check on the executive.
If parliament in Ghana thinks that the present chamber is too small, they can pass legislation to reduce the number of representatives. After all, who needs 275 people to approve a piece of bill from the executive or a loan agreement which seem to be their main preoccupation? If we take a look at parliamentary sittings we see that on average a third of the members is always absent except when they are deliberating on issues that bothers on their own welfare.
KT Hammond's statement that parliament would not sit under trees to do its business was irresponsible and unnecessary. After all nobody is asking the house to meet under a tree. However, if parliament would be effective if they sit under a tree that would inure to the benefit of Ghana. After all, students sit under trees to study in Ghana so that wouldn't be a bad idea at all if our parliament would sit under a big tree for its business, it would rather save the country a lot of money, cost of air conditioning, lighting and etc would all be saved into the national purse.
Nii Lamptey's claim that our parliamentarians are the least paid in the sub- region could also be addressed by reducing the number of parliamentarians, if we do that, we can afford to pay them more. If they are seen to be working well and in the interest of Ghana, then we can afford to pay them well. Based on the foregoing, the argument that parliament must drop that chamber is a call in the right direction.