As Gallant Cranes Return, It's Time to Rethink Entertainment For Jobs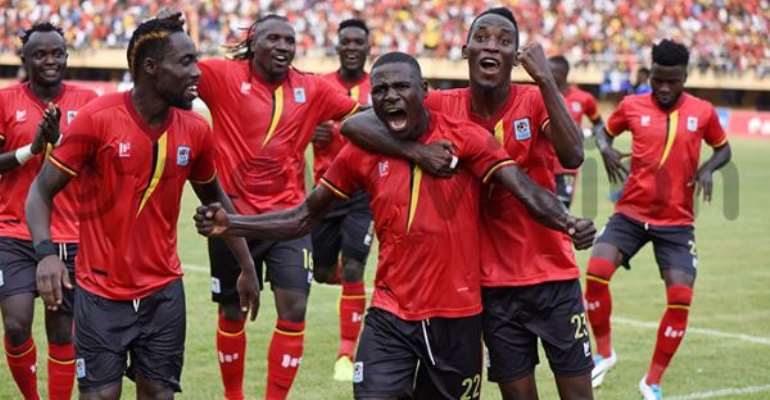 It was all pride watching on TV the Uganda flag at the center of soccer action in Cairo International stadium of Egypt. And a sensational feeling of confidence knowing our players were to demonstrate great skills before a global audience of soccer lovers, estimated in millions.
Uganda made significant progress from the previous Afcon, Gabon 2017 performance of a single draw in group stages to an emphatic win and a draw in this Afcon, Egypt 2019. It also stretched to the limit tournament favorites; Egypt and Senegal. Bravo our young men! Bravo coach Sebastien Desabre—whose resignation ought to be rescinded!
This, therefore, triggers deep thinking: how to strategically tap into entertainment in general as a lucrative job adding industry. According to an American-based research agency, A.T Study of Sports, the global entertainment industry that comprises sports, creative arts (music, dance, drama, film, comedy), media (TV, radio, newspapers and other publications) will be worthy $2.1 trillion just by next year.
Upgrade NCS to Ministry
The vote of sh26b (approx. $7m) allocated to the National Council of Sports (NCS) in the 2019/20 national budget to share between 48 sport federations is a loud testimony of how far detached were are as a nation from global trends of the 21stcentury. Of this, the Uganda Cranes alone needs sh10b to engage a tenth of activities so that it stands a chance to yet progress to quarter stages of Afcon in 2021 and negotiate a slot in World cup, Qatar 2022.
To redress this discrepancy, there has to be radical changes in government structures. Particularly, this essentially means to upgrade the present National Council of Sports from an agency status to a fully-fledged new ministry called the 'Ministry of Sports and Creative Arts.' This will cause a realistic public investment into the entertainment sector. To fully integrate it in the national development agenda, you need the requisite infrastructure in form of equipped entertainment facilities at the grassroots. You need technical personnel—really typical of a ministry not a department nor a mere agency.
Factories Not Enough for Jobs Addition
If we are to limit ourselves to opening new factories as the major intervention in addressing the challenge of job insufficiency, we would need 2,200 new factories every year to absorb the need for 660,000 new job seekers annually—considering that on average each factory can offer 300 jobs. This is unsustainable. Therefore, the entertainment industry offers the most viable parallel approach alongside factories to sustainably supply the desired jobs.
Savings, Investments, Jobs
Public investment in the 48 sport disciplines recognized by NCS and the vast array of creative arts, entails that every able-bodied Ugandan child will have somewhere to fit in terms of marketable talent. A child who begins to earn from their talent at tender age will be as good as already employed. That's a job added. Unlike in the current set up where up to the time of graduating from university and college, aged 23 to 25, the youth are dependent on their guardians, those whose natural skills have been tapped, developed and hired during their teenage years, will instead of taking, be bringing more revenue into the family.
The guardians will therefore get room to save, which accumulated savings could be invested in job-creating ventures. And this just at the bottom end. At the extreme end, a successful sportsperson or artiste can build a factory, a modern road, a hospital and a school and yet, live to die opulent. That is how countries are in this age maximizing dividend from investing in their human resource.
Moral Integrity Recovery
Virtually all sporting and creative art activities have rules and professional codes to be observed. Encouraging the young by policy, to engage in these activities will not only draw them from potential illicit social behaviors—such as drug addiction, extreme violence, undesired pregnancies and general crime but will mold them into morally upright law-abiding citizens. This will mark the beginning of recovering the current rotten national moral fabric to particularly mitigate corruption.