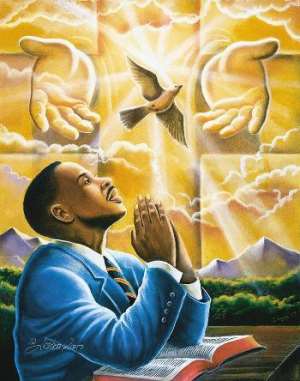 The God of Abraham, the God of Isaac, and the God of Jacob answers prayers. God answers prayers all the time, but the answered prayers may come in different ways or at different times.
I was inspired to write this article when I sat in Church on Sunday June 23, 2019, listening to a sermon by Rev. Marty Vershel, Senior Pastor of First United Methodist Church in Missouri City, Texas. His sermon was primarily about speech and its consequences - how words can help or hurt others. He focused on Numbers 21:5. The people of Israel spoke against God and Moses for bringing them out of Egypt to wander in the desert. As a result, God sent snakes to bite the Israelites, which led to the deaths of some of them. The people asked Moses to pray for God to take the snakes away from them. Moses prayed and God told him to make a snake and put it up on a pole so that if anyone was bitten and looked at it, he or she would live (Numbers 21:4-9). My attention was drawn to the prayer and answer portion of the Bible passage.
Note that the people of Israel wanted Moses to pray for God to take the snakes away. Instead, after Moses prayed, the answer he received from God was for him to make a snake and put it up on a pole so that if a person was bitten and that person looked at it, he or she would live. In other words, the snakes remained and the people faced the risk of snakebites, but they could receive healing if bitten.
That was not the first time God had sent animals to punish people. For example, back when Israel was in bondage in Egypt, God sent frogs, flies, and locusts, as three of the ten plagues, to the land of Egypt to persuade Pharaoh to release Israel from bondage. On each of the three occasions, Pharaoh, the King of Egypt, asked Moses to pray for the frogs, flies, or locusts to be taken away and when Moses prayed, God answered by taking the frogs, flies, and locusts away (see Exodus Chapters 8 and 10).
Not so with the people of Israel. Out of bondage and wandering freely in the desert, the people of Israel, God's own chosen people who knew better, received a different answer. God did not take the venomous snakes away. In fact, God added one more snake, albeit a fake one, as the remedy. God answered the prayer by requiring some action on the part of the Israelites. A person bitten by the snake was to look up at the bronze snake on the pole for healing!
It is unclear why God chose that approach to address the prayer request. However, we should recall the two key phrases in the Lord's Prayer: "Thy will be done on earth," and "deliver us from evil." God delivers us from evil, but he does so according to His will.
Unlike the Egyptians, the Israelites were going to be with God for a long time. Perhaps, they needed to know that they could not be isolated or immune from the worries and problems of this world. They needed to know that evil was, and still is, part of this world. They needed to have courage and ability to fight under the protection of the Almighty God because there were many battles ahead of them. They needed to trust and have faith in God that He would be their shepherd. They also needed to know that God would deliver them, but in accordance with His own will.
That incident has broader implications in God's plan for the salvation of all people. Referring to that incident, Jesus said, "just as Moses lifted up the snake in the desert, so the Son of Man must be lifted up, that everyone who believes in him may have eternal life." (John 3: 14-15 NIV). All that the people of Israel had to do to be cured after a snakebite was to exercise their faith and look up to the bronze snake on the pole. Similarly, all that a person needs to do today to obtain salvation is to believe in Christ and look up at the cross at Calvary where the crucified Christ is calling everyone to come to him. The burden of sin is the attraction we need to draw ourselves to Christ, nothing more.
Therefore, child of God, lift up your eyes to the hills, up on the cross at Calvary where Jesus was raised, and obtain your salvation and healing from the Lord. Child of God, face your fears under the guidance of the Almighty God. God may not eliminate all the troubles in your way, but may give you the courage, strength, and grace to overcome them.
When we pray, we should expect God to answer our prayers. However, as Christians, we need to make provisions in our prayers and in our lives for God's will to be done. God's will may not always be exactly our will, and so we should make accommodations for God's will in our prayers and in our lives. When we do that, we would find that God answers our prayers in more ways than we can ever imagine.
Even Paul did not always receive exactly what he asked from God. None of us can claim to be closer to God, pray more, or receive more answers from God, than Paul did. Yet, Paul said he prayed three times for God to remove a thorn in his flesh, a messenger of Satan that was tormenting him, but God said, "my grace is sufficient for you, for my power is made perfect in weakness." (2 Corinthians 12: 7-9 NIV). That was an answered prayer, but not exactly the way Paul had expected it. Paul expected God to take the thing away, but received assurance of sufficient grace to bear it. Therefore, going from Church to Church or pastor to pastor to hear exactly what our itching ears expect or desire to hear, may not be the best approach.
If we submit to God's will, we may realize that the exam or test we failed repeatedly may be pointing us in a better direction; the business that failed may be pointing us to a better venture; or the job offer or promotion we did not receive was making us available for a better opportunity. We may also realize that the evil that torments us has provided more courage to overcome our fears; the sickness that would not go away may provide us more grace and courage; or the family member or friend who died is resting peacefully in heaven with the Lord. When things are going badly for us, the devil may think he has won, but we should "know that in all things God works for the good of those who love him, who have been called according to his purpose." (Romans 8:28 NIV).
Snakes and snakebites may not be tormenting us in the same way they did with the Israelites. Nevertheless, we are confronted in this world by serious issues and problems whose solutions lie with looking up to the crucified and resurrected Christ. Therefore, it is to Christ and through him that we should pray to the Almighty God. Pray continually to build and maintain a relationship with Christ. Pray without ceasing and give thanks to God in all circumstances (1 Thessalonians 5:17-18).
God answers prayers. However, if we insist on receiving the exact answers we want, we may be playing God. It is as if we know what is best for us, whether it is God's will or not, and want God to grant our requests as we have presented them to Him. Forcing our will on God does not make for a healthy relationship. It may only lead to frustration and rebellion. We should have some humility like Paul who said, "we do not know what we ought to pray for, but the Spirit himself intercedes for us with groans that words cannot express." (Romans 8:26 NIV). Let us leave room in our prayers for God's will to be done and for God to be God of our lives.
Prayer is the key. May God grant us the grace to seek Him daily through our prayers.
Dr. Daniel Gyebi, Attorney-at-Law, Texas, U.S.A., and Founder, PrayerHouse Ministry, Kumasi, Ghana.
PrayerHouse Ministry is dedicated to providing a quiet facility for Christians to pray individually by themselves without any intermediary priest, pastor or any other person. This is a free service. No money is demanded or accepted. One facility is located at Kyerekrom / Fumesua, near Building and Road Research Institute Offices, one mile off the Kumasi-Accra Road and next to a house called Grace Castle. If you are interested, please contact Agnes at 054-7498653. Another is located at Kantinkyiren, at the junction of Kantinkyiren and Konkori, off the Kumasi-Obuasi Road, branching left at Trede junction. Contact Kwadwo at 020-8768461 / 0246-989413.