Massive corruption in health budget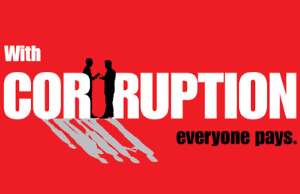 Accra, Feb. 1, GNA - Eighty per cent of non-salary funds allocated annually for various public health facilities end up in corrupt hands, the 2006 Global Corruption Report (GCR) on the health sector has indicated.
The report launched on Wednesday by the Ghana Integrity Initiative (GII), the Local Chapter of Transparency International, said most of the leakage occurred between the Central Government and Districts.
It said with about 65 per cent of total health spending as non-salary recurrent expenditure, approximately half of the amount allocated to clinics and hospitals, did not reach them.
Presenting the findings, Mr Daniel Batidam, Executive Secretary of the GII, said the report dubbed: "Public Expenditure Tracking Survey" conducted in 2000, covered 12 developing countries including Ghana. He said a Budget Transparency Survey conducted also in 2004 indicated that Ghana scored 64 per cent under the category "Executive Budget Document" but attained as low as 34 per cent when it came to monitoring and evaluation report.
Mr Batidam said South Africa, which scored 82 per cent was the only country in Africa found within the upper bracket.
Similarly, he said, under the "Public and Legislative Involvement Report" Ghana scored 33 per cent compared with the highest score of 86 per cent for the leading country, Slovenia and 77 per cent for South Africa.
Giving an overview of Ghana's health sector, Mr Batidam said it was prone to corruption at various stages of the health care process and cited doctors' connivance with pharmacists to sell drugs, poor management, supervision and/or fraudulent manipulation of excess hours of work payment.
He said corrupt health suppliers often bribing public authorities enabled them to sell fake drugs to hospitals and consumers and corruption in payment systems such as over billing of patients. On the report's recommendation, Mr Batidam noted that in spite of the measures being put in place by the Government to check those corrupt practices; internal collusion was still possible and had the potential to undermine the effort.
He said the way forward was to expedite action on the passage of the proposed Whistle Blowers and the Freedom of Information Bills, which, he said, would help to prevent corruption largely.
Mr Batidam also called for more transparency in the health care systems saying, "Government should grant easy access to information on key aspects of health related projects, budgets and policies.
"We must adopt and enforce codes of conduct for health workers and private sector companies in providing ongoing anti-corruption training."
Under procurement processes, Mr Batidam said they should be competitive and transparent, ensuring that rules on conflict of interest were enforced and companies that engaged in corruption were banned from future bidding.
Major Courage Quashigah (rtd), Minister of Health, who launched the report and alluded to most of the findings, said it had come at a time that the health sector was charting a new course to purge the system of corruption.
He said the nature and structures of the health system created a fertile ground for corruption since health professionals continued to have more information on the causes and management of diseases than those who fell ill.
"Indeed most of us go to the hospital without any idea of what is wrong with us and how much the services we may require will cost us." As a result, he said, people continued to pay some form of fee or charge at almost every desk and for every service. "We have had cases where people have paid more than 10 times the approved fees for operation and rugs...."
He said the report provided an analytical view to the situation and direction as to how corruption could be minimized.