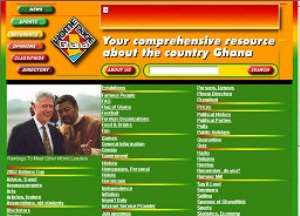 A Message To ghanaweb "Next year, Ghana will celebrate her Golden Jubilee anniversary. Mr Speaker, 50 years is a long time in the life of a nation. On this birthday, we must view the positive adjustment of our attitudes as mandatory. We must break from past lethargies and refocus for the future as one nation, with one destiny." After saying this in his Sessional Address Tuesday, President J A Kufuor went on to remind Ghanaians: "We must realise that the strength and beauty of democracy lie in the power of choice. We must be careful not to let people who do not subscribe to the tenets of democracy take advantage of the freedoms guaranteed thereunder to subvert democracy."
Tuesday's speech had a whole section dedicated to 'Negative Publicity of Ghana on Websites.' Although, President Kufuor did not mention any names he could only have been referring to one domain – that unofficial cyberway to Ghana: www.ghanaweb.com. The site built and controlled by two men (one Ghanaian, the other Dutch) domiciled in Finland and the Netherlands.
Through efficient, reliable and professional management of the site, ghanaweb has become the only medium of choice for current information on Ghana. Being the unofficial window to Ghana, the President was right to say that, "Deliberately or inadvertently, such [uncomplimentary stories about this country on the internet] tend to undermine the integrity and image of the country and its institutions."
The organisers of the site are quick to argue that they do not control what people say on their site, so much as simply give them the opportunity to Say it Loud in their section of that name – to post what are often ill-informed or offensive comments onto the World Wide Web for people around the globe to read. The contents of the Rumour Mill are often particularly defamatory.
At least the site administrators can control what goes on the site as news; although even there their defence is that they put out there what is provided to them.
And, The Statesman can attest to it because since we started emailing our stories to them our news items are always carried. Perhaps, the opposition papers were quicker to it and as such dominated the site with negative news about government.
Even so, we believe the controllers of the site cannot escape blame. There are several other websites which also allow visitors to make their contributions. Yet, those sites are noted for their decorum. Those who contribute their views on other sites, such as BBC's News 24 website, are notably courteous. But, should we blame it on Ghanaians? That we are so uncouth and our politics so vile that a comment or two on a story of some national import is reduced to insults and counter insults?
We believe this happens because the organisers of ghanaweb have allowed such a culture to prevail; ignorance breeds ignorance and offensive remarks will provoke an offensive response. Had the administrators put a check on this kind of crude exchange from the outset the situation could have changed.
It may be popular because nonsense also has its appeal, but it is a disgrace to what is otherwise an indispensable site offering invaluable information to Ghanaians all over the world and others with interest in Ghana.
We are hereby appealing to the organisers of ghanaweb to take a radical stance against the abuse of the site. The site has become so established and influential that it does not need such crass, shameless, coarse, literal hooliganism against intellectual discourse to survive and grow.
Our advice to the organisers: please pull the plug on the instant interactivity and comment placement segments for a while and see what happens.
You may be a lover of free speech. But don't be a lover of brutespeak. It is dangerous to our collective national effort to progress.
As to your right to carry newspaper stories potentially defamatory and portraying a negative image of Ghana and the government, we shall defend it always. If the country thinks, in the interest of free speech, such newspapers should survive and if those potentially defamed are 'okay' with it, then you deserve no blame for disseminating worldwide what we in the country of origin are tolerant of.
"The whole world is in competition," says President Kufuor, "for investment capital, and this act which drives away potential investors is unfortunate." Unfortunate, but tough.