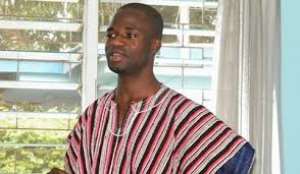 Speaking literally in staccato fashion, a purported Communication Officer of Dome Kwabenya Constituency, advertised his sycophantic stratagem in an attempt to lampoon to demean, de-market, and defame the country's seasoned investigative Journalist, Manasseh Azure Awuni (the youths role model).
This communication juggernaut of the governing party sought to dispirit and subsidize the motivation of the ace journalist when he accused him of flippancy towards the first gentleman of the land, President Akufo Addo.
I do not begrudge him too much.
Edmund Burke once said that "tell me the prevailing sentiments that preoccupy the minds of your youth and I will tell you what it is going to be like, the future of your next generation!
The mindset to murder others in cold-blooded character assassination has been the currency of trade in our republic since independence.
Character assassination has been the most dependable asset of political parties and has become the order of the day in our political landscape. It is our national character.
You see, no one bites the finger that feeds him. So, certain flagrant sycophantic rhetorics for a "plate of fried rice" should be tolerated and forgiven.
Fellow Ghanaians, I may have to borrow one of the teachings of humanity's greatest Teacher, the Son of Mary, Jesus Christ, to make my point in this communiqué.
Jesus is quoted to have said in Matthew 23:11 that "The greatest amongst you shall be a servant"!
President Akufo Addo remains the greatest servant in this country.
And with all courtesy and decorum, if Ghanaians don't "disrespect" president Akufo Addo for his poor service as the biggest servant of the country, who should they disrespect?
I mean, if we don't "insult" president Akufo Addo, who does the communication officer thinks should accept and embrace the "insults" and responsibility of challenges of our dear country expressed by Ghanaians?
You see, Jesus Christ also taught in Hosea 4:6 that "for lack of knowledge (wisdom) my people shall perish (destroy)."
Accustomed to dusting the shoes and briefcases of political godfathers of the country, the unabashed minion, claimed to be an officer of communication, sees it fit to question the ace journalist's moral high ground to question the President's flagship campaign promise of Free SHS that majority of Ghanaians believe was shabbily implemented.
When did Manasseh the dialling boy of the NPP who literally crucified former president Mahama for them to come to power, becomes a member of the NDC?
Really? Unlike you Manasseh's bank balances does not indicate so.
But that's the work of sycophants and young stooges, political bootlickers who can make one's enemies seem friends to them and the vice versa. Observing Manasseh from afar I don't think his pen knows foe or friend. Its vituperation always descend on persons whose activities have a demonic consequences on our collective wellbeing as a people.
Without sounding too hyperbolic but to be as honest as Jesus the Christ, if care is not taking, one day we may collapse under the brutal weight of executive praise singing in this country!
What a VIP lapdoggery?!
These moles cum fawning factotums in this country who have set out to massage facts to mislead our leaders into destruction are becoming unbecoming.
I mean, why is it that people engage in classic mendacity in order to eat in Ghana?
With time, Ghanaians may have to kneel or even prostrate to our Creator to help us sanitize and clear the cobwebs of these political turncoats, uncle Toms, and woodpeckers in our political space.
Because they are responsible for our endless deepening and widening national problems.
Is it not time for Ghanaians to stop looking at where they fall for what caused their fall, but rather search for the cause at where they stumbled?
Of course, I do not agree with my role model (Manasseh Azure) sometimes regarding some of what he critiques the government for.
And my thesis is simple. It is unfair to use the bullet of an elephant to shoot at a mouse.
His works went berserk in the last days of the Mahama-led administration.
And the NDC really in a way deserved the unkind effects of journalism in their second term in government (eight good years in power). Because by 2016 there was still not any indication of mitigating the sufferings of Ghanaians despite the incessant borrowing.
Besides, former president Mahama by then had been a skeletal "dead goat" that needed journalistic magic to resurrect him. Venomous criticisms were therefore required.
Nevertheless, this current government is still quite very young in their first term in three years for certain juristic conclusions usually drawn by my role model in his write-ups.
However, that mustn't be a barricade or shield to stop journalists from "jabbing" the government if certain decisions alien to our democracy are taken by the government.
When the head is too big, the Dome Kwabenya Constituency communicator must know, it cannot dodge blows.
President Akufo Addo decided to put his life on the line to be the greatest servant of the land. As such, he must be responsible for anything Ghanaians are not well enthused with. Especially journalists.
Again, he mustn't be mistaken for a convenient punching back or doormat for what he does if it is good.
But because this proxy battle fighter has shot himself in the foot just for a profane and unmerited pat on his back, he has the shameless audacity to market his small-mindedness belittling the works of the journalist.
The difference between you and I as proxy battle fighters is that one is fighting for his stomach and the other is fighting for the State.
For lack of wisdom or appreciation, the stomach communicator didn't realize that a parent or master/teacher, sometimes canes a child or student not out of hatred, but genuine love for them.
If President Akufo Addo et al. had taken it upon themselves to unsparingly critique the leaders of their time as followers he would not have been a leader himself today and still fixing basic problems abandoned by the former leaders he failed to critique.
But because they were nonchalantly following and took everything for granted and never acted in their youth to the governmental activities of those stone-age leaders who messed up Ghana and took Ghanaians for a ride at the time, he is a President today fixing what should have been fixed long time ago had he and others questioned the activities of those former leaders!
It is you and I plus Manasseh et al responsibility not to repeat what the president and his generation failed to do.
We must not sit aloof and watch him carried away by the intoxicating effects of political power. Else, just like the president is saddled with the mistakes of former leaders he failed to correct, we shall spend our lives also fixing President Akufo Addo's mess if we relax in our skins and watch him carry out policies that might not harm him at his age as a late septuagenarian.
We have to wake up and rise up as youth to monitor the activities of our soon fleeting leaders lest they create a disastrous future they are not going to live in with us. It's one reason why Ghana remains undeveloped in spite of our endowments. Nobody wants to do the right thing. Politicians are mainly doing what they like with our resources and not what must be done.
And engaging in unnecessary VIP sycophantic rhetorics will murder our collective dream of a better future as a youth.
Manasseh Azure Awuni has only taken the lead to ensuring the right things are done by our leaders and not on the basis of their whims and caprices.
If you can't be a participator in the government of Akufo Addo, at least, be a spectator. But don't try to be a fifth columnist to a sacred course!
Long Live Ghana.
God Bless us all.
The Writer, Iddrisu Abdul Hakeem, is a MasterCard Foundation Scholar @ KNUST.