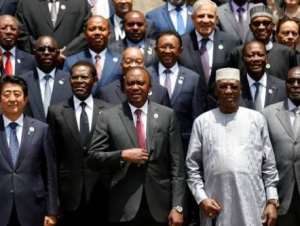 African leaders can't do anything on their own
It is once again Saturday. We live to see the days running very fast till another Saturday, Sunday or Monday comes again.
Actually, in the aspects of human life, the days shouldn't be our primary concern, instead, the question should be: how wisely do we use those precious days before they slip away?
Are we wasting those precious days to destroy our environments or we are protecting it?
The earth is rich and prosperous, however, how wisely do we use it? Nature is abundant and visible in every corner of our country, however, how often do we value its preciousness?
Again, how often do we treasure our beautiful beaches, streams and the natural running rivers which possess radiant energy?
The ability to use our resources wisely, to build proper schools, to improve the health sectors, and to provide better health and educational facilities in rural areas throughout Ghana, has been neglected.
Instead, our resources are being wasted through projects which are not beneficial to the country and the suffering masses in any way.
In Ghana, many are unemployed, many schools, especially in rural areas, are operating without tables and chairs, while some hospitals have no beds or an ambulance, yet our earth possesses abundance elements of prosperity.
If a bad farmer quarrels with his tools, that means we have bad leaders who haven't enough experience and knowledge to utilize our resources wisely.
The main causes of lack of development, prosperity, and employment on the African continent are the fault of the leaders and those holding ministerial posts.
The economic crisis and political unrest in Africa have remained the same for decades, firstly, because the politicians lack the knowledge to rule and secondly, don't feel that depressive impact like the common people to make a change.
Africa has long been a leading country in the world for raw materials or natural resources, we agree that we live in turbulent times, yet it is our responsibility to maintain this global leadership without sacrificing our social model.
Africa has a long way to go since the leaders can't do anything significant on their own. They will continue to borrow while our earth possesses all the riches and they will continue to depend on foreign governments, such as China because to them they don't gain anything special from the unemployed in the country.