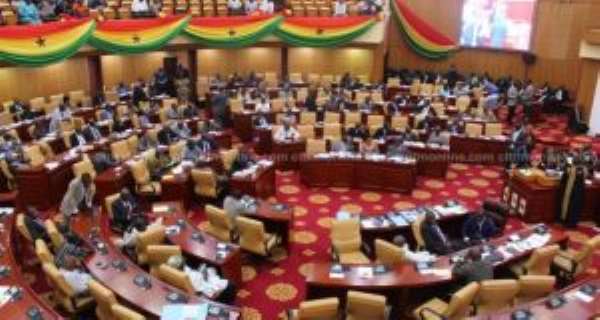 The decision by the members of Ghana's Parliament to construct a new chamber is, properly speaking, an idea whose time lies far-off into the future. Still, it is significant to quickly underscore the fact that as recently as 2013, during his maiden State Of The Nation Address (SONA), then President John Dramani Mahama spoke of his intention of having a new edifice constructed to house our National Assembly. So, clearly, the entire self-preening idea is indisputably bipartisan in thrust. In fact, I just received a whatsapp videoclip from a very reliable informant, eloquently and inescapably backing up Mr. Mahama's proposal at the time, that I intend to discuss with our readers in due course. I am also having quite a bit of difficulty – I guess you could even say "a mild stomach-ache" – in swallowing the sugarcoated "Toli" presented the general public by Mr. Kojo Oppong-Nkrumah, the astute and witty Information Minister, that, somehow, the Akufo-Addo Cabinet has yet to be officially engaged in any serious discussions about the imminent possibility of constructing a new ultra-modern edifice to replace the present Parliament House (See "Chamber Brouhaha: 'Executive Has Not Been Engaged' – Oppong-Nkrumah" Modernghana.com 7/4/19).
I have a bit of difficulty swallowing his "Toli" because in our current mongrelized and bastardized political culture, the Information Minister also doubles as a Member of Parliament for the Akyem-Ayirebi constituency in my home area of the Eastern Region. So, practically speaking, there is absolutely no clear-cut distinction and/or division between the Executive and Legislative arms of the Government. The Akan have a diplomatic maxim that runs as follows: "Every elder pleads innocence of any issue or problem that has not been formally/officially presented to him/her for discussion and/or resolution." Among the Akan, it is also often said, and I trans-create the same from the original Akan-language: "Opanyin(i) Biara Due M'annte, M'annte." I don't really see the foregoing quote to be strictly applicable in this particular context. And I am not even ready to discuss the patently humdrum question of misplaced priorities, or the fact of whether all the basic schools in the country are duly and/or properly housed and adequately equipped with the requisite learning tools or not.
The fact of the matter is that even if we cynically and morbidly focused on achieving the complete satisfaction of all the basic needs of Ghanaian society and all of its people or citizens before our leaders moved onto everything else, in terms of other items on our national-development agenda, absolutely no remarkable progress would ever be made or achieved in our beloved nation. In this case, however, the inexcusably scandalous decision by the nation's legislators to build a new edifice for rehousing our National Assembly deserves all the absolute contempt and outburst of protests and conniption that such decision and proposal appear to be receiving or harvesting, in terms of general public reaction, among Ghanaian citizens and residents the world over.
Such decision simply lacks common sense, moral and social responsibility and leadership foresight. And I am one-hundred-percent certain that President Addo Dankwa Akufo-Addo is absolutely smack on the same page with me on this patently disgusting and morally untenable and scandalously noetic initiative. Such inexcusably imbecilic exercise of the human cranial faculties may very well be the reason for the Information Minister's "Toli" that the President and his Executive Staff, or the Cabinet, have yet to be formally engaged on the same. You see, I staunchly backed the previously proposed construction of the Akufo-Addo-initiated National Cathedral Project primarily because the actualization of the latter architectural landmark was to be fully and exclusively funded by private philanthropists and individuals, with absolutely no dime or pesewa, whatsoever, coming from our National Treasury.
In the case of the proposed New Parliament House, however, it is the already overburdened Ghanaian taxpayer who is expected or, properly speaking, being called upon to bear the full cost of construction. It would have been more tolerable if our clinically indolent legislators had consented to donating or earmarking half of their fat and comfortable salaries for underwriting the humongous cost of the proposed new parliament-housing project. There is also a shameless and inexpedient capital component to the proposed project that comes in the form of hard-currency loan solicitation from abroad, presumably from either China or the West. I know most of our leaders lost their sense of national self-worth and dignity ages ago, but, of course, that does not mean that they have any inalienable constitutional right to saddle the rest of us with their inordinate penchant for reckless or profligate political lifestyles. Nothing could be more heinously criminal.
I have already written reams of columns on the critical question of the overpopulation of Ghana's parliament, vis-à-vis its track-record on development achievements for the country, so I shall not waste any more time herein on the same subject. Suffice it to observe, at least tangentially speaking, that if the leaders of the New Patriotic Party seriously care about retaining the democratic mandate afforded them by the Ghanaian electorate beyond Nana Akufo-Addo's tenure, the last game that they would be playing with us is this Madhouse type of Russian-Roulette. We have also not forgotten the frivolous and economically profligate and unwise importation of furniture from China, when the same could have been produced right here in Ghana.
*Visit my blog at: kwameokoampaahoofe.wordpress.com Ghanaffairs
By Kwame Okoampa-Ahoofe, Jr., PhD
English Department, SUNY-Nassau
Garden City, New York
July 4, 2019
E-mail: [email protected]