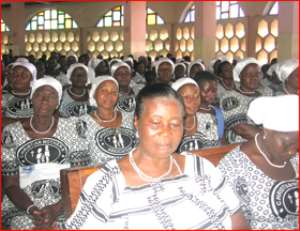 Dr Kwaku Anane-Gyinde, a Lecturer at the GIMPA Faculty of Law has noted that Christians in Ghana have a critical role to play in the fight against corruption, indiscipline and other social vices creeping into the fabric of the Ghanaian society.
Dr Anane-Gyinde, who was the Guest Speaker, made these comments at the Fundraising Harvest in aid of a church Building at Kunsu organised by the South District of the Mid- North Ghana Conference of the Seventh Day Adventist over the week.
He said Christians have the duty and indeed the responsibility not just to serve as the moral conscience of society but to provide the moral compass that should guide society.
According to him, despite the proliferation of churches in Ghana in recent times, moral decadence, indiscipline, greed and the lack of respect for fellow human beings seem to be on the ascendency and attributed it to the collective failure of the church and society at large
He argued that Christianity is gradually becoming hostage to the dictatorship of relativism as a result of which Christians are unwilling or afraid to stand up for their convictions and defend what is right and eschew wrong doing.
Dr Anane-Gyinde noted with regret that instead of preaching virtues such as hard work, honesty, self-disciple, integrity and service to one's community, most Christian preachers tend to focus mainly on the message of prosperity rather morality
While admitting that it is normal and acceptable to aspire towards prosperity, one can only attain it through hard work, self-discipline and commitment to a clearly defined cause and not through miracles or prayers alone.
Dr Anane-Gyinde reminded Christians that the best way to serve God is to serve one's neighbour, his community and the county adding "service to your neighbour and country is a prayer and service to God"
Pastor Stephen Darkwa, District Pastor of the Church, thanked the visitors, church members and the invited guests for their support and contribution toward the Kunsu Church Building and gave the assurance that the money would be judiciously used for the intended purpose
Pastor Darkwa informed the gathering that people who still want to donate towards the Building project may do so by contacting the leadership of the Church at premises of the Sawaba SDA Church in Kintampo