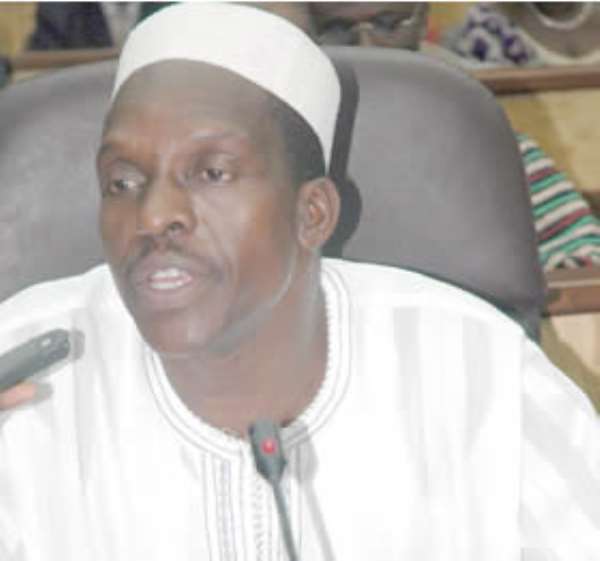 Accra, Jan 31, GNA - Mr. Alban Bagbin, Minority Leader, on Tuesday described the President's state of the nation address as" a recycled material that offered nothing new."
He said President John Agyekum Kufuor only came to defend his past actions and did not tell Ghanaians the state of their nation. The Minority leader who was speaking to the media after the President presented his second State of the Nation address to the Fourth Parliament, said, "he should have told us what was happening in the key areas of the life of the people."
"I was expecting him to tell us how for instance the health sector was doing, how the people were dealing with their health problems. I mean he should have told us what the ordinary man expected to hear." On corruption, he said the President's understanding was "unfortunate' because corruption is always a hidden and "dark" activity which needed a lot of resources to unearth it.
He said for the President to ask the media to report corrupt practices to the police and other agencies were very unfortunate. The Minority Leader said it was the job of the media to throw light on issues so that other groups and agencies with the resources or those mandated by the constitution to investigate such issues would take off from there.
He said the Freedom of the Information Bill should have come to Parliament for passage before the Whistleblowers Bill because without having the right to information, there would be nothing to whistle or blow.
He accused the Presidency for engaging in patronage adding, "it favoured only the political elite and not even helping the ordinary private sector man."
The Minority leader however, commended the President for being the first Head of State to submit himself for the Peer Review Mechanism. Mr. John Tia, Minority Chief Whip said the President had shown how insensitive his administration was to the plight of the ordinary Ghanaian.
He said by defending the stance that the Presidential Palace was to be built, the President had told the people that " your guinea worm can eat you up, you can be poor, but let me build a palace because that is my priority."
He said the use of macro-economic data to measure the prosperity of the Ghanaian was misleading.
According to the Minority Chief Whip, the ordinary person sees only poverty and deprivation around him so the macro-economic statistics mean nothing.