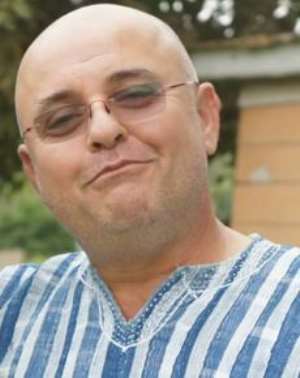 Unless anyone is looking for me in the latrine that The Herald Newspaper has made an abode within, I am around and as kicking as a foal can be. Let Larry Dogbe be informed that in spite of his enthusiasm for the name that he holds, he could never accomplish his dream of a "wanna-Be Dog" even if he tried because that would be a far-fetched honour for him to achieve.
In fact, Samuel Atta Mensah is too honorable that he should come crying to The Herald to carry out his case. He has all my details and contacts. Besides, I am around, everywhere and anywhere. I shuffle between the corridors of Power watching the back of my NPP government from charlatans as the Herald folks who have made it a habit to run anything Akufo-Addo down.
Samens and I could have had some rough times. Both of us feel aggrieved over issues, and it his right to go to court. After all, sensible people like him and I will submit to the rule of law, unlike the vagabonds of the NDC who hide behind smokescreens to camouflage their ineptitude. We believe that The Herald like other NDC pockets of intolerance, bigotry, shame, and treason have the tradition of Seance as they seek counsel with the silent dead who are already wallowing in their own dilemma, hence their emptiness!
The Herald has always sought to magnify pettiness. The so-called sleuths of this entity, albeit, seemingly sanguineous in their disposition have never meant well for Nana Akufo-Addo and Ghanaians in general. Yes, I am proud of my President and very proud of those with whom I have fought political battles.
In a way, I am also proud of Samens. At least he has achieved in life much higher levels than Larry Dogbe and his group of charlatans have. It may be that Samens and I have gotten at each other's throat, but then again who has never fought with a brother. Even the ring worms in Larry Dogbe's filthy intestines fight for space, in spite of his overstocked waste.
Let me iterate and reiterate to The Herald Newspaper that Samens has my contacts, email, whatsapps etc. I am in Accra. In fact, I have not left the confines of this great Region for the past three months. But using the name of Samuel Atta Mensah just boosts their image, and that is what they are banking on. Unfortunately, they are rather doing him a disservice by bringing his good name into their dirty books.
Samuel Atta Mensah is a sensible human being and when he wants something served on me, he knows how to. After all, we both owe each other an apology, and a retraction of things written and said. The thing about NPP is that when we wrong one another, we apologise, make amends, and smoke the peace pipe that the Herald and the people of their nature have not gathered enough courage to light. Larry Dogbe has offended so many people, has he got the courage to say "Sorry"? Except when he awakened the giant in Gabby Otchere-Darko, he has never apologised for his nonsense!
Incongruously with the traditions of tolerance and maintaining the unity of our fabric, The Herald and its likes have fomented and incited rage against the national peace and unity that Ghana enjoys. Whenever there is a general calm in the country, The Herald would create a semblance of psychological pandemonium to agitate peaceful Ghanaians. They should never for a minute forget that this nation of 30 million will stampede them into oblivion should they create a reason to be punished as such.
Repent and be good citizens. At least Larry Dogbe should change his nuance of savagery towards President Nana Akufo-Addo. After all, of his family there are members who are enjoying Free SHS, enhanced NHIS, etc etc. They should cultivate the habit of speaking the truth. Each time the domineering devil in them begins an agenda, they should keep mute and look towards the heavens, for one day, their mouths will be shut forever; a lesson they should reap from this inevitability!
By Fadi Dabbousi