NEIP Engages Indian Investors to invest in Ghana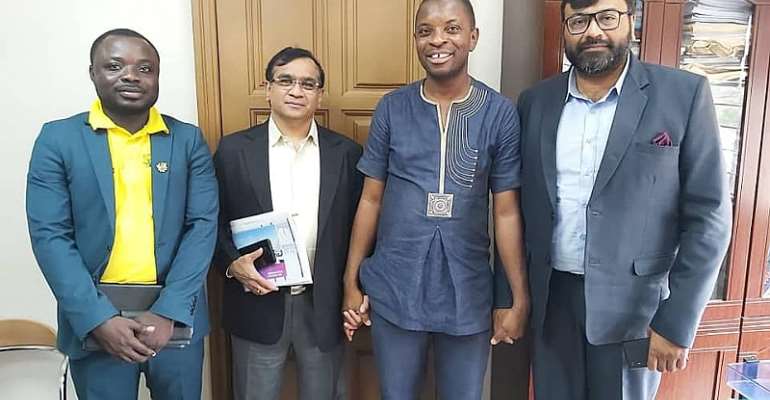 The National Entrepreneurship and Innovation Programme-NEIP under the Ministry of Business Development is living up to its mandate of developing the entrepreneurial eco-system by attracting investors to set up Businesses in Ghana to employ more Ghanaians. NEIP is an initiative of President Nana Addo Dankwa Akufo-Addo to help develop the entrepreneurial ecosystem by providing funding to start-ups and expansion.
The NEIP among others provides business advisory service to businesses and has one of the largest greenhouse estates in Dawhenya, Ghana. NEIP last year train 7,000 entrepreneurs and funded 1,350 of them. This year about 12000 will be trained and 3,00 will be funded.
Speaking after receiving a delegation of Indian investors to Ghana on behalf the CEO of NEIP, the Director of Communications and ICT at NEIP, Joseph Osei Oppong Brenyah said the group is in Ghana for investment opportunities. He mentioned ICT, pharmaceutical, transport, health, Agric as the sectors that are likely to receive investment from the Indian investors. "All these are as a result of the ingenuity of the Minister of Business Development Alhaji Dr. Mohammed Ibrahim Awal who gave us the opportunity to travel to India to look for investors to invest in Ghana, He said as part of the visit to Ghana, the group will be meeting some sector ministers to discuss ways to invest and also introduce some innovations in key government agencies to help solve health problems and also tackle issues of unemployment
The Indian delegation led by Chairman and CEO of the V Worldwide group of companies, Mr.Parikh H.A. applauded the Ministry of Business Development and the NEIP for leading the entrepreneurship drive. He said his group are looking at a lasting relationship with Ghanaian businesses and will soon establish Ghana India business network to promote Ghana India business relationship. Mr. Parikh was very optimistic that the decision to invest in Ghana will yield the needed results.