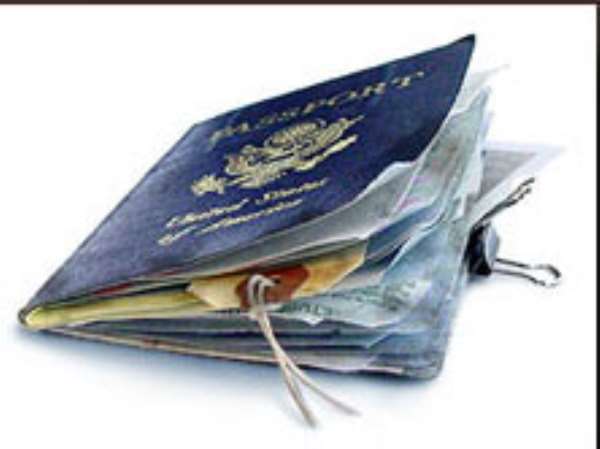 The Ghanaian Association of Thailand (GHANASSOBK), a group of Ghanaians based in Thailand has made an earnest appeal to the authorities responsible for issuing the Ghanaian passport to streamline their activities and make it impossible for Non Ghanaians to obtain the Ghanaian passport.
GHANASSOBK executives say streamlining the activities of the government agencies in charge of issuing passports (Immigration Services and the Ministry of Foreign Affairs) is necessary if Ghanaians are to protect whatever is left of their image abroad.
The Ghanaians based in Thailand told this newspaper that they have found a large number of West African citizens, mostly Nigerians and Liberians using the Ghanaian passports. "What they do with our passport is unimaginable, creating a very bad image for Ghanaians in Thailand", Vice Chairman of the association, Mr. Foster Barfi told this reporter during a recent visit to Thailand.
Mr. Barfi explained that the misuse of the Ghanaian passport has compelled the association to plead with the Ghana mission in Malaysia to issue all Ghanaians leaving in Thailand with identity cards to serve as an additional identity for bonafide Ghanaians.
"We are cooperating with Thai Security agencies to demand the I. D. on arrest of any Ghanaian who flouts the law, in a bid to differentiate between genuine Ghanaians and non Ghanaians travelling with Ghanaian passports."
The association advised Ghanaians desirous of travelling abroad to seek greener pastures to be wary of connection men who extort huge sums of money from people with the promise of sending them to the South East Asian countries, especially Japan and Hong Kong to work there.
According to the association, South East Asian countries already have abundant skilled and unskilled labour of their own and do not need exported labour from Ghana or Africa.
Barfi disclosed that two years ago, some young footballers were lured by these con men into Thailand with the promise of securing football clubs for them but were abandoned on arrival in Bangkok. "Since the arrival of these footballers they have not even kicked a ball, let alone joining a club to nurse their dreams of making it big as footballers." Apart from Thailand there are so many young Ghanaian economic refugees in other Asian countries like Malaysia, Singapore and Hong-Kong who have been conned by such mean men who only live on the lack of knowledge of such young people.
The Association executives say in recent times they have been undated with SOS calls from stranded Ghana passengers at Bangkok International Airport to come to their aid and that their welfare officer has the unpleasant duty of going to the airport every time to stand surety before such travelers are allowed into the country.
The Ghanaians based in Thailand are therefore seeking the corporation of the Ghanaian media to educate would be Ghanaian travellers to make sure they acquire the necessary travel documents before traveling to Thailand.
They have also called on the government to have an extradition treaty with the Thai government to enable Ghanaian prisoners serving various jail terms to be repatriated home to serve their sentences as was recently done by the Nigerian government.
They are asking the Minister of Foreign Affairs or his representatives to visit Thailand due to the increased volume of trade between the two countries and to push for Thai investments in Ghana.
They also expressed concern about the security situation and the spate of armed robbery in the country, especially highway robbery and the snatching of mobile phones from users by petty criminals and thieves in the cities.
The executives challenged security personal to be up and doing by helping to flush out such undesirable characters from the society in order to allow law abiding citizens to go about their duties in peace.
They again called on immigration officials to enforce the country's immigration laws to ensure that the country's laws work, while making sure that immigrants entering the country respect the laws of Ghana by complying.
The 200 member strong Association is made up mostly of self employed people owning their own businesses such as traders, restaurants owners with a few teachers amongst them. Some of the Ghanaians have lived in Thailand for up to 15 years.