School Feeding is Pivotal to Human Capital Formation—Gender Minister Tells Partners at the Observance of the Africa Day of School Feeding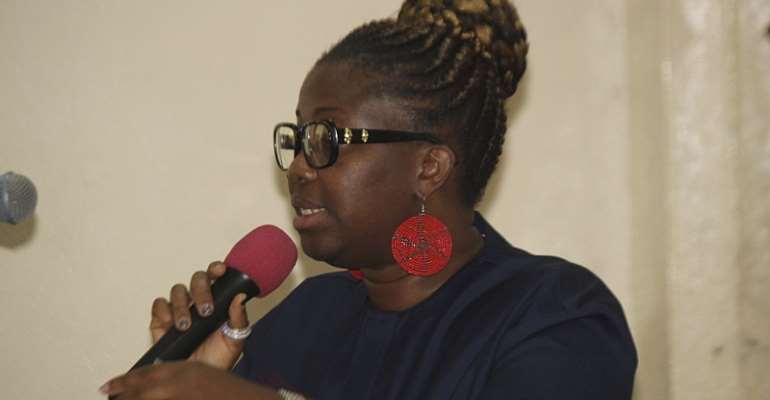 Liberia's Gender, Children and Social Protection Minister Williametta E. Saydee-Tarr expressed her profound gratitude to have served as the keynote speaker for the Observance of the Africa Day of School Feeding -held at the Old Executive Pavilion on Broad Street, Monrovia. Speaking during the occasion, the Gender Boss said the day is emblematic of the commitments of African Heads of State and Governments of the African Union in support of school feeding across the African Continent. According to Minister Tarr, school feeding contributes to the attainment of the Agenda 2063 by helping families to ensure that all children including girls are able to access education from early childhood to completion of secondary level, and that children have adequate nutrition and zero hunger while supporting local food production.
The erudite Minister of Gender, Children and Social Protection stressed that School feeding is a pivotal instrument to the human capital formation of any nation—especially to early childhood development. She admonished partners to internalize this year's theme: "Investing in Home Grown School Feeding for Achieving Zero Hunger and Sustaining Inclusive Education for all in Liberia". According to the Minister of Gender, "Inclusive Education" means every child must have an opportunity to go to school—regardless of socio-economic status and this is even more important as the Sustainable Development Goal #2 calls for "Ending hunger and achieving food security, improve nutrition and promote sustainable agriculture".
The Minister told the gathering that Liberia as an underdeveloped country is compounded with adverse social conditions ranging from poverty, inequality, social injustice and limited opportunities for citizens--especially its vulnerable population such as at-risk population (children, women and elderly) and people living with disabilities. She pointed out that these harsh social conditions continue to pose enormous challenges that continue to undermine the livelihood of many Liberians, and more so, create adverse effects for the country's vulnerable population including children, "At-Risk" population and people living with disabilities and unfortunately, more than 54% of the country's population lives on less than US $1.90 per day, with a high dependency ratio of 77.4% (ages 0-14 years): (Human Development Index, 2018). "Additionally, the country's inequality gap shows 22.7% income disparity across all quintile of the population; with females earning much less than their male counterparts". Minister Tarr averred.
According to Minister Tarr, the Government of Liberia, through the Ministry of Gender, Children and Social Protection recognizes the binding constraints these emerging social problems have and if not swiftly addressed, would potentially undermine the achievements of President George Manneh Weah's "Pro-Poor Agenda for Prosperity and Development (PAPD), thereby increasingly creating harsh economic conditions and polarizing Liberia's Human Capital. "This is why a School Feeding Program is essential to provide a balanced diet to Early Childhood Development of children which would in turn enable them to increase their attention span in order to have better learning outcomes". Minister Tarr emphasized.
Recounting the gains of the School Feeding Programme in Liberia, the Gender, Children and Social Protection Minister made mentioned that since the launch of the home-grown school feeding programme with 6 schools in June 2016, these schools saw a 30 percent increase in attendance when school resumed in September. The pilot was expanded to include an additional six schools; now providing daily meals to 3,000 school children in 12 schools. This is a remarkable signal of how essential school feeding has become—particularly for the human capital formation of Liberia.
Hon Williametta E. Saydee-Tarr recommended to the Ministry of Education to include school feeding programmes as part of the national educational policies and plans. The Gender Boss re-echoed that school feeding programs have a strong potential to get children into school and bolster retention rates, through the enhancement of enrollment and the reduction of absenteeism. "Many scholarly works show that once children are in school, the program contributes to their learning, through avoiding hunger and enhancing cognitive abilities and nutritional growth". Minister Tarr quoted.
As the sanguine pupils cheered Minister Tarr, she became lucid to partners that achieving strategic goal of eliminating hunger and chronic malnutrition requires investment in both girls and boys from their earliest days through to their adolescence. "We must help mothers and fathers strengthen their livelihoods; we must work within communities to build resilience and, we must reinforce government's commitment to deliver nationally owned solutions". Minister Tarr espoused. She added that by nourishing the next generation, we can solve hunger, boost economic growth and empower everyone to develop to their full potential.
Minister Saydee-Tarr informed the audience that her Ministry is at the verge of launching the social cash transfer under the Liberia Social Safety Net Project. "By the year 2023, it is our hope that at least 10,000 extremely poor and food insecure households will receive direct cash benefit as a way of reducing their socio-economic vulnerability, thus making them relatively independent and additionally, we have design a complimentary program called the "Accompanying Measure"—intended to increase the ability of poor families to have a more sustainable life through our Health Awareness and Agricultural Support programs". Minister Tarr outlined. The Gender Minister is hopeful that these programs will enable parents to seek direct medical treatments, while at the same time involved with home gardening which will increase nutritional support for their families.
Williametta E. Saydee-Tarr in conclusion expressed her profound thanks and appreciation to the Ministry of Education family for driving such an innovative initiative, as well as Local and International Partners and the Government of H.E. Dr. George Manneh Weah.