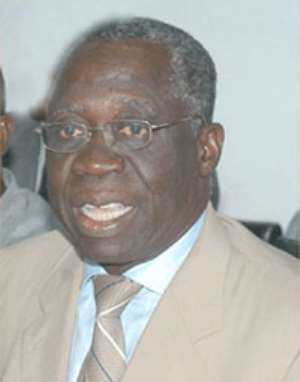 Akim Awisah (E/R), Jan 29, GNA - The Minister of Education and Sports, Mr Yaw Osafo Maafo, has warned that any headteacher or teacher, who overtly or covertly undermined the implementation of the Capitation Grant scheme, would not be speared.
"This scheme is a pragmatic way of ensuring that financial barriers such as fees and levies are removed so that all children can avail themselves of the services that the system provides", he stressed. Speaking at the 80th anniversary celebration and Speech and Prize-Giving Day of the Akim Awisah Presbyterian Boarding School on Saturday, Mr Osafo Maafo said Government was committed to ensuring that every child got access to good quality basic education, irrespective of where they live or what their economic circumstances were. He said preliminary data gathered from the district showed that the introduction of the scheme had succeeded in placing 616,439 pupils over and above last year's figure into basic schools.
The Minister said the attendant increase in enrolment meant the re- channelling of more resources into the education sector, adding, "notwithstanding, the 95 billion cedis paid to schools as Capitation Grant, an additional 34.4 billion cedis will be needed as a supplement". "It also means more textbooks, more classrooms and more teachers, all of which call for more money," he stated.
Mr Osafo Maafo said as an interim measure in addressing the challenges, District Directors of Education had been instructed to introduce the shift system, particularly in schools where it had become necessary and practicable to do so.
He said the Ministry was discussing the practicability of paying extra duty allowance to teachers who may be engaged in the shift system as well as the prospects of asking teachers about to retire to stay on. Mr Osafo Maafo said numerous steps were being taken to close the widening gap between incomes of rural-urban and between public-private schools.
He reminded the students that their future carrier, by and large, would depend on how serious they were on their studies now and urged them to take advantage of all opportunities in the school system to be useful citizens in future.
The Moderator of the General Assembly of Presbyterian Church of Ghana, Rt. Rev. Dr. Yaw Frimpong-Manso, challenged the present generation of staff and students of the school not to relent in their efforts to hold aloft the banner of discipline, academic and moral excellence for which the school was noted.
He commended the West Akim Presbytery for the material support and oversight it had provided to the school and called on it to upgrade the school to a vocational/technical institution, while maintaining the boarding system.
In his report, the Headmaster of the school, Mr Gyamera Konadu, said the school obtained 83.3 per cent in last years' Basic Education Certificate Examination (BECE).
He said in order to cope with the increase in enrolment there was the urgent need for expansion in infrastructure. Prizes were presented to students, who excelled in the various subjects. 29 Jan 06