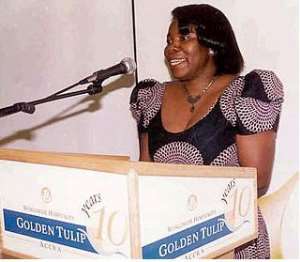 The substantive Director-General of the Ghana Broadcasting Corporation (GBC) and Officer in Charge of Finance, Eva Lokko (on leave) and Kofi Kye respectively have been held negligent for not taking proper care and custody of some GBC cheque books-which facilitated the theft.
The amount involved, ¢1,142,432,000 was fraudulently withdrawn from GBC's account at the Bank of Ghana (BoG), Prudential Bank and the Trust Bank following some blank cheques that were stolen from the custody of management.
Fifteen of such cheques were used to withdraw the amount.
In addition Mr Kofi Kye has been charged to provide to the Auditor General the full list of payments made, showing the basis of the amounts paid to each beneficiary and the related cheque numbers to enable the Audit Service confirm the amount of ¢718,696,103, " purportedly paid on voucher number 625563 of December 13, 2004.
Investigations into the operations of the GBC by the Auditor General was as a result of agitations by some staff of the corporation last year to effect that the Director-General was inefficient and had perpetrated financial improperity.
They therefore called for her removal.
The investigations established that the Finance Department of GBC failed to issue invoices totaling ¢5.72 billion to its agents and also delayed in invoicing space orders transmitted by Ghana Television (GTV) to the tune of ¢3,165 billion for periods ranging between one and a half months to seven and a half months after the adverts were played.
According to the report, " the Director General wrote to inform the Auditor General that she could not provide comments on some of the observations raised in the report because he claimed that she had been denied access to the office where the necessary documents are kept."