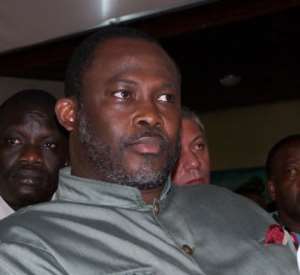 Daily Guide -- The former minister of Education, Ekow Spio Garbrah begins campaign to sell his candidacy to the rank and file of the NDC setting the stage for a potentially Mills/Spio duel.
According to Pro government paper, Daily Guide the former Ghana Ambassador to the United States and NDC Minister of Communication, who is now chief executive of London based Commonwealth Telecommunications Organisation (CTO), has mapped out elaborate public relations strategy to warm his way into the hearts of the people.
Sources close to the Daily Guide say Ekow Spio Garbrah made scathing remarks against the thrice-defeated flagbearer of the NDC, Prof John Evan Atta Mills.
Mr Garbrah who made those remarks recently on Metro TV said Prof Mills should spare the NDC another disastrous outing in 2008, if scientific research was not conducted to find out why he performed poorly in elections 2000 and 2004.
The London base chief executive who is said to enjoy the support of founder of the NDC, Jerry Rawlings has instituted measures to annex the NDC flagbearership.
According to the Daily Guide report, a group calling itself " Draft Spio Garbrah for President Movement" has been formed with the aim of selling the former communications minister to Ghanaians.
The group has come with a well documented paper titled " Ghana's search for new leadership in 2008" which seeks to explain why Spio should be elected to take over form President Kufuor after 2008.
" We wish to assure you of our commitment to work perseveringly until Ekwow becomes president of Ghana.
We are not saying that there are no other well-qualified candidates for this job. But we care enough for our country and have lived on earth long enough to see a good capable man when see one.
Ekwow is the man we know and we are sure that very few candidates can measure up to his accomplishments and potential when all the facts are laid bare on any table," the 11-paged document said.
According to the group its decision to canvass support for Mr Garbrah was not through his prompting.
" He has not any immediate political interest in Ghana having had many unpleasant experiences in his 7 year political career in Ghana. Some of us who are sponsoring this message would wish that we did not have to disturb his peace, yet Ghana needs him," it said.