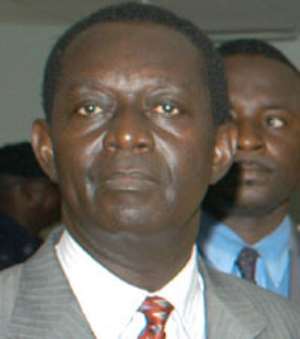 Tamale, Jan. 25, GNA - Dr. Kwame Addo-Kufuor, Minister of Defence has called for a forum on the Northern Region involving principal actors and other stakeholders to deliberate holistically on factors causing conflicts in the area.
He suggested that such a forum be held at Akomsobo to address the underlying causes of problems of the region, especially the instability, development, the guinea worm disease and the water situation and come up with a lasting solution to facilitate the overall development of the region.
Dr. Addo-Kufuor made the called at a meeting with Northern Regional Forces Commanders and Members of the Regional Security Council who took turns to brief him on the general security situation in the region in Tamale on Wednesday.
He said: " I am not enthused that the security situation in the region, especially Tamale and Yendi, is returning to normalcy. We need to do more about issues that agitate for the conflicts and other disputes".
The Minister who is on a two-day visit to the Six Garrison in Tamale, would also pay courtesy calls on some traditional rulers and Imams of the Central and Afa Ajura Mosques in the Tamale Metropolis. Alhaji Abubakar Saddique Boniface, Northern Regional Minister told the Defence Minister that the burial of late Ya-Na Yakubu Andani II, overlord of Dagbon, has become a major problem to the Regional Security Council.
He noted that the burial of the Dagbon King would be the starting point for reconciliation and sustainable peace in the area and called on the traditional authorities and other partners to work toward the quick burial of the late king.
At the palace of Alhaji Ziblim Abdulai, the Gulkpena (Regent of Tamale), Dr. Addo-Kufuor announced that the government had earmarked one trillion cedis under the Millennium Challenge Account for youth employment and development in the region.
He said the government would also embark on road infrastructure development in the region but added: "This will not be possible without peace".
The Defence Minister said the government was also giving equal attention to addressing the water crisis in the Metropolis and improving structures and equipment of the Tamale Teaching Hospital. Dr. Addo-Kufuor appealed to the Gulkpena to use his rich experience and influence to bring peace to Tamale and Yendi in particular and the region as a whole.
Alhaji Abdulai told the Defence Minister that what was derailing the peace process was the "selective system of justice" being practised in the area.
"Some people are always punished for causing trouble while others who are also equally guilty are left out," he said, and called for equal justice to enhance the peace process in Dagbon.