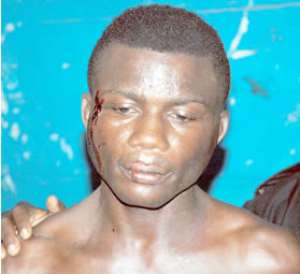 Accra, Jan. 24, GNA - An Accra Fast Track High Court would on Monday February 27 determine the fate of Aryee Aryeetey, alias Ata Ayi, and three others standing trial for robbery and conspiracy. Ataa Ayi and his accomplices, namely Samuel Kweku Annan Roger Koblah Agbodoga and Raymond Ameh, who pleaded not guilty, are in custody.
When the trial resumed on Wednesday, the Court asked defence counsel to file their addresses to the Court by February 3 to enable it to deliver its verdict.
He Prosecution during the 10-month trial called five witnesses before Mr Justice Baffoe Bonney to state their case. The case of the Prosecution was that on October 14, 2003, Mr Bernard Boadi Agyeman, Managing Director of Prism Consult Limited, sent one of his workers, Mr Ilaisu Mamudu, to cash a cheque for 70 million cedis from the Opeibea Branch of the Standard Chartered Bank, near Kotoka International Airport.
The Prosecution said after cashing the money, which was put in a bag, Mr Mamudu saw Mr Isaac Yanney, Managing Director of Investhec Company Limited, who said he had an appointment with Mr Boadi Agyeman at his office at Dzorwulu.
Mr Yanney, therefore, offered Mr Mamudu a lift in his car and the money was put into the boot.
On their way to the Office, the accused persons, who were using a saloon car, trailed the vehicle until they got to the office at Dzorwulu.
The Prosecution said as soon as they parked their vehicle, the accused persons parked behind them, got off their car and started shooting indiscriminately.
The accused persons ordered their victim and other bystanders to flee or risk being shot.
The Prosecution said the accused persons fired several times at the boot to force it open, took the bag containing the 70 million cedis and fled.
On December 18, 2003 Sammy Tugah and Agbodoga were arrested upon a tip-off and during interrogation mentioned Ameh and Ata Ayi as their accomplices.
The accused persons denied the charges saying they neither conspired to rob or rob anybody.
Meanwhile, the same Court would commence a mini trial on February 16, in a second case of Ata Ayi and eight others who are being held for robbing a businesswoman of 65,000 dollars and 45 million cedis at Taifa Junction on February 5, 2003.
The accomplices include Nana Yaw Owusu, Yaw Asante Agyekum, Stephen Nyarko, Frederick Lamptey Annan, alias Nunnboe and Kwabla Agbodoga. The others are Samuel Kweku Annan, Raymond Ameh and Nana Osei Razak.
They have all pleaded not guilty to conspiracy and robbery.