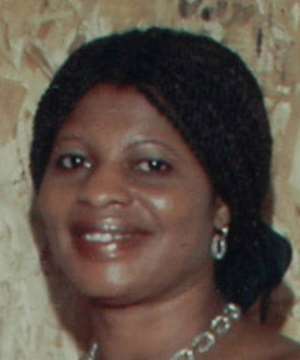 The New York Post has reported the death of Haggar Frempong Mason who was struck and killed by a beer truck, last weekend. Family members and Ghanaians in Newark, New Jersey are in a state of shock, mourning the death of Haggar Frempong-Manso of Newark, New Jersey. Read the full story below; January 22, 2006 -- A woman on her way to work was killed yesterday when she was pulled under and crushed by a backing-up beer truck as she tried to cross a Midtown street between parked cars, police said. Haggar Frempong-Manso, 49, from Newark, was trying to cross West 44th Street in the middle of the block bettween Sixth Avenue and Broadway at 9:30 a.m. when she was struck and pulled underneath the reversing Bud Light delivery truck, cops and witnesses said. She was rushed to Bellevue Hospital and declared dead from head injuries.
Frempong-Manso, a native of Ghana, was on her way to work as a housekeeper at the Sofitel when she darted behind the truck, her family said.
Witnesses said the truck had its reverse warning signal on, but the driver could not see Frempong-Manso as he backed up, and she went down with a sickening thud.
"It was moving very slow and Bam!, she was under it," said George Kastanos, 59, who runs a shoe-repair store nearby.
Once the driver realized what had happened, he attempted to move the truck to free her.
"After he hit her, he tried to move the truck forward to free the head of the woman because she was trapped," said Carlos Roman, 44, a limousine driver who was parked up the street.
"I ran and saw the lady's face, and she was down, shaking and breathing. It was scary."
"She didn't have time to say anything," said doorman Peter Naine. "She just got pinned. I feel sad. It was a tragic accident. I called 911 immediately, but I couldn't say much because I was in shock."
Frempong-Manso's spilled thermos was spotted lying in the street near a pool of blood. Her black knit hat lay nearby, and a few coat were buttons strewn about on the ground.
Police closed the street for several hours and after inspecting the truck and questioning witnesses and the driver, deemed the incident and accident.
The driver was issued a ticket for unsafe backing up, cops at the scene said. No charges were filed.
"That's all he got for killing someone," said the woman's distraught daughter, Sherri Frempong-Manso, 25. "I'm devastated. I just saw her last night."
Friends described the mother of three, friends as a vibrant and outgoing woman.
"She was the nicest lady," said family friend and neighbor Michael Boating. "Very social, one of the nicest ladies in the building. I can't believe this."