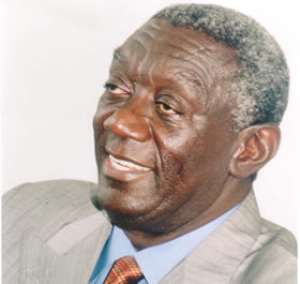 "I was imagining how our funeral would be organised" - Agyapong A Boeing 727 aircraft carrying President Kufuor and his entourage from Sirte, Libya to Khartoum, Sudan last Saturday for the 6th Ordinary Session of the African Union (AU) made an emergency landing in the Libyan capital, Tripoli due to hydraulic failure.
The 25-member delegation including officials at the presidency, security personnel and journalists went through scary moments immediately after take off at the Sirte International Airport when the under carriage (tyres) failed to withdraw its compartments underneath.
Thirty minutes after the pilot had made several efforts to let the landing gear (undercarriage) respond to commands had failed, he was left with the only option of making an emergency landing at the nearest airport located in Tripoli, about 500 miles North West of Sirte, a four and a half hour drive by road.
The aircraft was chartered by the Libyan government from Malta to fly the president and his entourage from Accra last Friday to Sirte en route to Khartoum.
The detour to Sirte was to afford the president the opportunity to hold discussions with the Libyan leader, Col Muamuar al Qathafi on issues concerning the full integration of African countries before the AU Summit.
Thirty minutes into the four and half hour flight to Khartoum, the aircrew informed some members of the delegation that the flight had to be aborted as a result of technical difficulties which needed immediate attention at the nearest airport.
They said it had therefore been decided to make the flight to Tripoli for the technical problem to be rectified.
The crew cleared the aisle of any luggage as well as TV cameras and Laptops, which had been kept by the Journalists close to their seats as part of the preparations for emergency landing.
Thereafter the ladies who were serving snacks on the flight abandoned the service, returned to their seat, fastened their seatbelts and tears began flowing down their cheeks.
The weeping even frightened those passengers who sat near the tail of the aircraft.
In the scary moments president Kufuor remained calm, swinging his legs occasionally.
The old and apparently very experienced pilot, whose name was not immediately known, had to fly the aircraft over the Mediterranean sea to discharge volumes of fuel to reduce the weight and speed of the plane as well as maintain its balance before embarking on the emergency landing.
The Libyan Fire Service and Aviation Authority personnel, who had been informed of the technical difficulties of the plane, arranged 13 fire tenders at the airport for any eventualities that might occur.
" I was imagining how our funeral would be organised, the tributes that would be paid and the wreaths that would be laid," Presidential Press Secretary, Kwabena Agyapong, said.
The outgoing Director of State Protocol, James Nadjie said, " I was thinking of how I was going to die, to be crashed or flung or what"?
Meanwhile, President Kufuor and his entourage had arrived in Khartoum for the AU Summit.