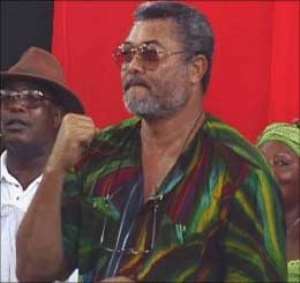 The Accra-based Daily Guide newspaper reports that Former President Jerry Rawlings has left town upon a supposed tip off to evacuate.
According to the paper, the former president left with his entire household enroute to a location in the Volta region.
Later a notice was posted on a website in Ghana from the office of the former president that the government had sent police and BNI men to follow Rawlings and assassinate him.
" The men in two cars came along and entered the mini-shop to look around. We have to finish the job today," stated the notice.
It sought to create the impression that the former president was being trailed by armed security officers from the national security apparatus and 'acting upon a tip off, the entire household of the former president (including the exotic dogs chiwawas) was evacuated from his Ridge residence en route to an undisclosed location,"
According to Daily Guide sources, the first couple were heading for the Vume Lodge, the luxurious hide-away on the banks of the Volta River near Sogakope.
The notice said as soon as the Rawlings' household set off from Accra, it noticed that two security vehicles were trailing them.
This development follow an earlier report by pro NDC newspaper, the Lens that there are plans to assassinate the former president.
The notice stated that the attention of the former president's personal security detail was drawn to a green Nissan Sunny car with registration number GW8325 W, and another ash colour of the same make numbered GW 8269 V, following the vehicle carrying their boss.
" Rawlings security detail made a diversion and stopped at a mini shop, dropping off one of them and parking their car a short distance away.
At a nearby Customs Excise and Preventive Service (CEPS) post, the former president's security alerted the officers about what they regarded as suspicious vehicles being driven by men in their 20's.
"As soon as the vehicles reached the barrier and were searched, whilst the former president's own security detail formed a protective cordon around and added that each of the men had fully loaded pistols and AK 47's".
The report said when the apparent leader of the squad was questioned, he claimed they were from the national Security outfit and made a call to prove that.
" Within seconds, the head of the CEPS detail made a call and said he had confirmation about the identification of the seemingly-suspicious persons and returned their weapons".