Police probes plot to kill JJ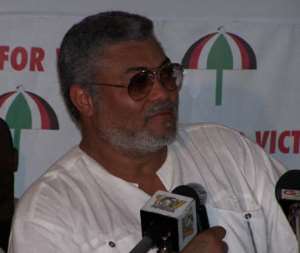 An alleged plot to kill former President Jerry Rawlings is being investigated by the Criminal Investigations Department) CID of the Ghana Police Service.
The allegation made by the Lens newspaper in its Friday January 20, 2006 edition, named Foreign Minister Nana Addo Danquah Akuffo Addo, Defence Minister, Dr Kwame Addo Kufuor, Tourism Minister, Jake Obetsebi Lamptey, Ghana's High Commissioner to Nigeria, Lt Joshua Hamidu and the National Security Coordinator, Francis Poku, as plotting to kill the former president.
The Inspector General of Police (IGP) Patrick Acheampong told the Graphic that the allegations were serious and the police will leave nothing to chance.
The Lens newspaper claimed that it learnt the plot was being timed to occur any moment soon to make it possible for the government to blame it on some imaginary enemies of former President Rawlings within the NDC and thus absolve itself from any accusation.
It alleged that the government would be aided by what the newspaper claimed to be government's numerous 'hired' media collaborators.
It said its intelligent sources had stumbled upon the name Lance Corporal Amedeka as one of the names that would be thrown into the system as one of the possible 'enemies from within' as being behind the plot.
The newspaper therefore drew the attention of the British High Commission, the United States Embassy and the European Union to the alleged plot to assassinate former president Rawlings.
Mr Acheampong said these were serious allegations, which should not be swept under the carpet.
He said the CID has already interviewed some of the people accused of plotting the assassination of the former president.
He said although those alleged to be plotting the assassination had denied knowledge of any such plot, they have been asked to submit written statements as part of the investigations.
The IGP said the police are yet to get in touch with General Joshua Hamidu, who is domiciled in Nigeria as Ghana's High Commissioner to that country.
He said people's reputation are at stake and therefore it is important that the police investigates the matter to establish the truth or otherwise of the story.
He was hopeful that the editor of the Lens newspaper will cooperate with the investigators to enable them get to the bottom of the matter.