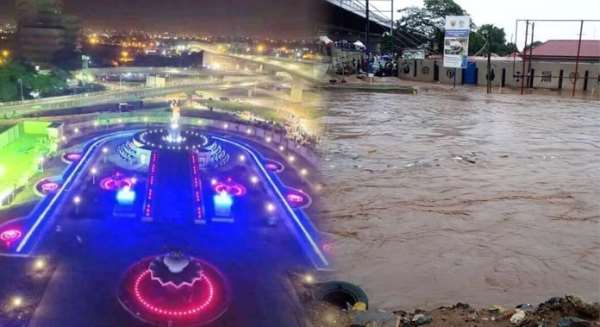 Kwame Nkrumah Circle
When would the conspirators finish their cock and bull stories about Osagyefo?
That he killed pregnant women or sacrificed them to some evil spirits. That he'd wild crocs at his residence--Flagstaff House and fed the reptiles with human flesh.
So, it appears remnants of those that perpetrated lies about Ghana's first President Kwame Nkrumah several decades ago aren't done with their atrocious stories yet.
First, it was Kankan Nyame--the Guinean deity, supposedly. And today, it's Dubai gods.
They've brought bad omen to Ghana--- hindering the nation's growth and development, according to the conspirators.
"There are some spirits working against Ghana, Dr. Nkrumah planted Ghana's protection spirit at Circle. Those days there no accidents but John Mahama took that protection spirit out and planted Dubai gods there to kill people for his selfish interests," claims Prophet Kwabena Tawiah.
The leader of the Church of Rabbi says: "I'm telling John Mahama he's an occult.
I'm a prophet I don't fear him. It's true the gods he planted at Circle is haunting the nation and its people. People get kill in the rains because of the gods he planted at Circle."
Is this not outrageous?
If you know the size of a queen-size bed, on top of your head, we probably wouldn't labour on this subject, I guarantee. But, quickly, queen-size bed is one size longer than a full-size bed and one size smaller than a king-size bed.
Per its super size, it can roughly accommodate two large people (about 300-450 pounds) or probably four medium-sized persons.
You don't deliberately jam-pack the bed with several or more people, if you do, you might end up suffocating everyone.
Try it with a boat or canoe too.
Disaster would strike, if it overloads or takes more than its required capacity. It could either sink or capsize and lose its passengers.
The above scenarios fit into Accra's perennial flooding situation.
Accra's landmass remains unchanged.
You can't add more to it and you can't make it less either. It covers 225.67 km (87.13 sq. mi) with an estimated urban population of 2.27 million as of May 11 2019. Accra, has grown from a town, to a city, to metropolitan to cosmopolitan.
Yes, the population of Accra which used to be less than half a million about 50 years ago has quadrupled. Today, there are more cars on the roads, more people in the streets and more garbage being generated at every quarter and gown by the day.
Unfortunately, it's sewerage system doesn't correspond with her astronomical growth, particularly at the Circle enclave.
There are fewer storm drains.
How did we not know that the queen-size bed has been overburdened?
And how did we not know that corruption, bribery, pilfering, mediocrity, sycophancy, selfishness, indiscipline and many more have conspired against Ghana's growth?.
In part, this is what is causing the floods and deaths in Accra/Circle and not Kanka Nyame or Dubai gods. In fact, they don't exist in the locality mentioned. This is common sense.
It's a no-brainer. This doesn't require prophetic chants from high horses. Neither does it require exorcism of any perceived evil spirits.
See, a lie was told by a liar many years ago.
And the liar knew then that he was lying but he didn't stop telling the lie. Why?
The lie must stand as truth, so that the liar will be halied by the ignorant majority.
Isn't it harder to unpack lies from a backpack than to unload a heavy-duty articulated truck?
I think it is, because if the latter was the case, then one wouldn't appreciate the enormity of a lie and the emotional and psychological trauma or injury it can cause one.
I think Prophet Tawiah's argument is ridiculous and full of fallacies.I will attempt to curate a few. First, it appeals to ignorance.
Remember, over decades back we were told that President Nkrumah had Kankan Nyame-- a god brought from neighbouring Guinea.
How many of us know that for sure.
Absolutely none-- no one has been able to prove that that deity exists. And if we cannot validate the truth or otherwise, then he exists.
And read this one too.
"Dr. Nkrumah planted protection spirits at Circle to prevent deaths at Circle but it was uprooted by Mr. Mahama and replaced them with Dubai gods which have been haunting Ghanaians, the prophet claims. If that doesn't sound baloney what else?
Prophet Tawiah says President Mahama should be blamed for the perennial water floods which kill people at Circle anytime it rains saying the deaths toll at the centre of Accra is a sacrifice for Dubai gods.
According to him people were not dying during rains at Circle some years back. But they started dying the moment President Mahama planted those demonic gods there for selfish gains. Truth is, several years ago the Circle Area wasn't overpopulated. The area is now choked with human and vehicular activities. Plus the voluminous filth people generate irrationally day by day.
In the meantime, Prophet Tawiah has dared ex-President to come out publicly to deny if he hasn't planted any gods at Circle that kill innocent Ghanaians.
There's also fallacy of inconsistencies.
He claims President Nkrumah was killing women. So how did he plant protection spirits if indeed he wanted more blood?
His assertion comes, a few days after another pastor made the same pronouncement.
He seems to support the claim by the Head pastor of House of Power Ministries Prophet Francis Kwarteng, who said Ghanaians need to be liberated from 'Kanka Nyame' spirits brought to the country by Dr. Kwame Nkrumah, Prophet Tawiah charged pastors to join forces together to save Ghana from wicked politicians.
He's called on the government to pool together pastors, prophets and fetish priests in Ghana to exorcise the spirits at Circle.
Prophet Tawiah prophesied that people will continue to die in the country because most of the leaders are occults saying Ghana needs to be exorcised to avert the curse on its people.
Did you notice the fallacy called "False Delima also known as "False Dichotomy"?
This line of reasoning by the prophet tends to limit the options to two. " People will continue to die if we don't exorcise the spirits."
But you know there are many or more options to this argument.