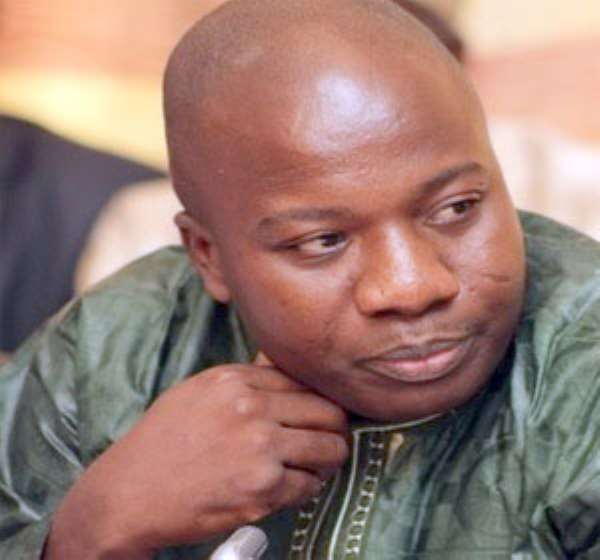 Mahama Ayariga (Hon?), the Member of Parliament for Bawku Central.
Every discerning Ghanaian, including you and me, knows that graft and sheer abuse of power as masterminded and perpetrated by our politicians and the public officials entrusted with authority are the principal elements militating against the progress of Ghana as a nation, and Ghanaians as a people. Therefore, any legal means employed to fight to curtail or eliminate these cancers denigrating the image of Ghana and reducing the people into the status quo of living in poverty in the midst of plenty must wholeheartedly be supported.
Once the fondness for corruption by our politicians and public services heads is gotten rid of, Ghana will start to prosper as a nation to the collective benefit of all Ghanaians. I blame the flourishing of corruption and the love of corrupt practices among our leaders on the non-enforcement of the laws of the land. Until the laws we have are enforced to the spirit and the letter, let us forget any pronouncements of fighting corruption by whomever as mere gimmickry.
The then-presidential candidate Nana Addo Dankwa Akufo-Addo promised Ghanaians in his electioneering campaign that he would fight corruption using all the means as are permissible and available to him by law if he were elected. Did he not promise to start with by creating the Office of a Special Prosecutor to prosecute government and public officials caught to have perpetrated or are perpetrating corruption?
Lately, we have all bemoaned the sluggishness of the Special Prosecutor to cracking the whip on the back of those publicly perceived to have committed corruption of various degrees, and taken him for a toothless bulldog with the much-touted promise to fight corruption as mere political talk.
As I trust my man, Nana Akufo-Addo, for being a liberator hence proudly comparing him to the biblical Moses or David of our time, his promise to fighting corruption, has started in honest. Although it has taken long, at last, it has started materializing with the never-fail possibility of achieving its objective. As "the wheels of justice turn slowly, but grind exceedingly fine", so will he deal a blow to the head of corruption in Ghana if we all play our positive part in the fight.
What amazes me is, when a political criminal is caught red-handed, he/she either cites in his/her defense that the evidence against him/her is doctored or he/she invokes an Act of Parliament to cloak him/her against prosecution. When that wolf in lamb's skin Pentecost Elder Samuel Ofosu Ampofo, the Chairman of NDC, was caught on recorded audio tape to be plotting evil against the NPP Government through acts of kidnapping, arson, robberies and all heinous crimes that could come into his warped black man's mentality, he started saying the tape was doctored. He is now seeking an escape route through the silly citation of the voice on the tape been doctored so it is not fully his. Did he not have rigid balls when he was enumerating step by step the criminal tactical strategies to employ to frighten Ghanaians to vote for NDC come Election 2020 to the applause and concurrence of the NDC little-minds like Kwabena Boahene who were in attendance of that secret meeting?
Now that his balls have been shaken and softened by the public revelation of the contents of the tape with the relevant laws closing and tightening on his neck, he is squealing like a pig saying, the tape has been doctored. He does not want to own up and man up to his evil plots. He is seeking refuge in the "doctoring" to insulate himself against the law that is baring its teeth and eagle claws at him. He can brag but when faced with the rigours of the law, his manhood shrinks and he begins to shiver like someone suddenly attacked by serious fever with him feeling very cold although his body temperature has risen abnormally high. "Doctored" my foot!
Let us go on to Mahama Ayariga (Hon?), the Member of Parliament for Bawku Central. Being a lawmaker, he has been caught tight breaking the laws. He has duped the country according to the charges preferred against him by the Special Prosecutor, Hon Martin Amidu, the Citizen Vigilante. Circumventing the laws of the land to criminally enrich himself, and when caught, he invokes an Act of Parliament to grant himself immunity from prosecution.
For Ghana to be able to rid herself of the corruption being perpetrated by her children to tarnish her image, all her children including you and me must come on-board in the fight against corruption. Let us all join hands to strip Mahama Ayariga and his about-to-be fellow parliamentarians caught corrupting themselves of the parliamentary immunity or else, we can never fight corruption in Ghana. Once the big fish are hooked by the law, the small fish will swim away in haste.
Mahama Ayariga can try with all his threatened epistles, he will be trialed by the court. He claims to be sitting in Parliament to defend his constituents. Do you defend their interests by breaking the laws to serve your selfish interests? He must be joking!
As corruption by our politicians, civil service heads and law enforcement agents is an infectious cancer destroying Ghana, trialing those officials caught by the Special Prosecutor by charging them to court will be the perfect panacea to ending Ghanaian officials'' infatuation with corruption. Once the engine of the vehicle for fighting corruption has been turned on, there is no stopping. Therefore, any corrupt official must start thinking twice.
I call on all fellow Ghanaians, especially the disadvantaged masses, to support the President's fight against corruption. This is not about political witch-hunt so please, don't allow yourselves to be fooled by partisan rhetoric that Johnson Asiedu Nketiah and his ilk will start falling on in the hope of loosening the rope around the neck of those caught to have indulged in graft.
I am asking you nicely, what will you as an ordinary Ghanaian cite in your defense to grant you immunity from prosecution when caught to have committed a crime? Can you also fall on "doctoring" and an "Act of Parliament" to grant you immunity from prosecution? Just think about that.
Rockson Adofo