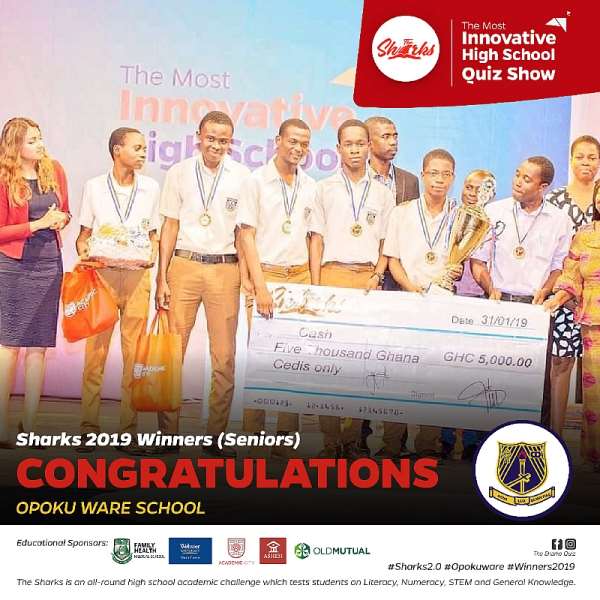 It was a deserving final; tensed throughout. The Sharks Quiz format is such that contestants will have to be at their wits end all the time, sharply focused on the utterances from the Quizmaster to adduce the missing elements in the concept he's espousing per question. Because answers are usually one-worded or a phrase at best, contestants will need to have their thinking caps firmly fitted and be super alert.
For the first two rounds, it was the lads from the Eastern Region, Pope John Senior High who were having a comfortable lead, at some point leading by 50 points. But the "Owareans" as they are referred to dived deeply in the final two rounds to snatch victory from "Pojoss" and emerge champions of Season 2 of The Sharks Quiz.
Opoku Ware School exhibited prowess in the STEM round where they answered all but two questions to overturn a fifty points deficit to eventually lead by 30 points. They would eventually cement the victory in the one-on-one round but not without a last-minute effort from Pope John Senior High who still could mathematically have won. 105 – 60 it ended.
The Deputy Minister of Education, Hon. Yaw Osei-Adutwum, who was the Special Guest of Honor at the final commended the organizers for coming up with The Sharks platform to test the core competencies of students. He especially noted how Science, Technology, Engineering, Arts and Mathematics (STEAM) is integral to any country's economic progress and applauded the teachers and heads of schools for allowing their students to partake in the academic competition.
Abdul Karim Abdul Rauf from Opoku Ware School won the Overall best contestant, while Awudi Stephen Yaw from Pope John Senior High and Jesse Acquah from Christian High took 2nd and 3rd overall best respectively. Cornelius Osei Owusu Boateng was awarded a $40,000 Presidential Scholarship from Academic City College. The winners took home 5,000GHS cash, a fully sponsored trip to the Zaina Lodge, science and multimedia sets for school lab. Selected students will also compete in the International Economics Olympiad in St. Petersburg, Russia in July.
The Sharks Quiz is endorsed by the Ghana Education Service and the Ghana Academy of Arts and Sciences and sponsored by Old Mutual Ghana, Ashesi University, Webster University, Family Health University College, Academic City, Zepto, Zaina Lodge and Indomie Ghana. The program is conceptualized by education consulting firm, Africa Schools Online.