Waste Or Launch Home Campaigns Against Air Pollution As part Of The UN World Environmental Day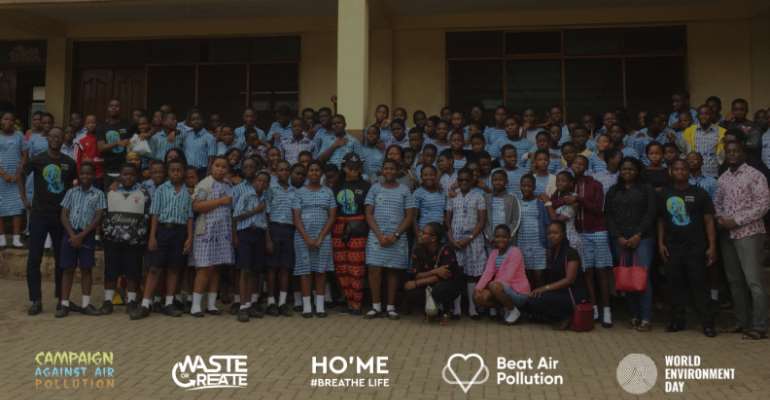 'Waste or Create', an environmental fousced organization that believes with art, innovation and creativity we can make a difference in our communities and societies by driving change one step at a time and this has geared them to start a campaign against air pollution . The campaign which kicked off from May 24th to June 5th 2019.
According to the World Health Organization (WHO), global urban air pollution levels increased by eight per cent between 2008 and 2013 and this is expected to rise given the increasing level of migration to urban areas, which will likely lead to more human activities and so more pollution. More than 80 per cent of people living in urban areas are exposed to air quality levels that exceed WHO limits, threatening lives, productivity and economies.
In Africa, the increasing level of urbanization coupled with poor urban planning leads to large numbers of people living in congested and poorly serviced housing. This serves to exacerbate the problem of pollution.
Most developed countries have organized system and educational practices to inform its citizens about AIR POLLUTION and the role they have to play. Unfortunately, access to such information is still limited in Africa. As a result, the scarcity of information on air quality in Africa is a real concern, pointing to a gap that needs to be urgently sealed to enable the continent to better understand its air quality status, and the causes and consequences in terms of the related health risks.
This is why the Waste or Create Team in collaboration with like-minded organisations like Green Generation, Emefa Art Workshop, Creativity Express, Ciyzoe, Urban brothers, Mister Wyets, Agyemang Duah, Green Way International etc are taking it upon our selves to launch this campaign.
The objective of this collaboration is to raise awareness of the health impacts of poor air quality and share solutions available to prevent and reduce air pollution. Furthermore, support the city to take action in mitigating the sources of pollution and greenhouse gases so as to improve public health and well-being, and contribute to reducing climate change.
Speaking to the team leader of the initiative, Miss Chineyenwa Okoro Onu, the team seeks to build a formidable approach that inspires the world on the need for climate action and proper waste management utilizing creative and innovative solutions. The campaign themed; 'HO'ME', which is a Twi translation for 'Breathe' coupled with a planned installation of Africa's biggest recycled Waste Art Installation that serves as a mark to the clarion for the fight to #BEATAIRPOLLUTION.
She indicated that "The unveiling of the 'HOME', Africa's Biggest Recycled Art Installation will be held in Accra, Ghana. She hope that this campaign and its activities will help raise awareness on the need for collaboration amongst Government, Private Agencies, International Communities and Concerned Citizens to provide an opportunity to combat air pollution in Ghana and across the world.
In order to address the challenges posed by air pollution more efficiently, the team has visited schools and communities in the La Nkwantanang Madina Municipal Assembly , Ashiaman District Assembly , Accra Metropolitan District and Tema Municipal Assembly as part of a public education drive on the matter relating to air pollution highlighting their roles and objective as well as showing them practical ways that can help them understand the benefits of quality air.
Background
Air pollution remains a major challenge in Africa. About 600,000 deaths every year across the continent are associated with this invisible killer. With 23 per cent of global deaths (12.6 million) linked to environmental factors, WHO estimates that air pollution is responsible for 7 million deaths every year. Air pollution is caused by harmful particulates and gases, released in high quantities into the air.
These pollutants cause disease and death to humans, damage to other living organisms such as animals and crops, and harm our ecosystems. Air pollution is caused by indoor and outdoor activities though the latter, which is largely a result of burning fossil fuels to produce electricity and to power vehicles, is responsible for most of the world's air pollution. Large and small scale industrial activities also cause air pollution by emitting substances into the air, which are harmful to human health and are the root cause of many of the respiratory diseases and cancers in humans.
The theme of World Environment Day 2019 " #BEATAIRPOLLUTION invites us all to consider how we can make changes in our everyday lives to reduce the amount of air pollution we produce, and thwart its contribution to global warming and its effects on our own health.