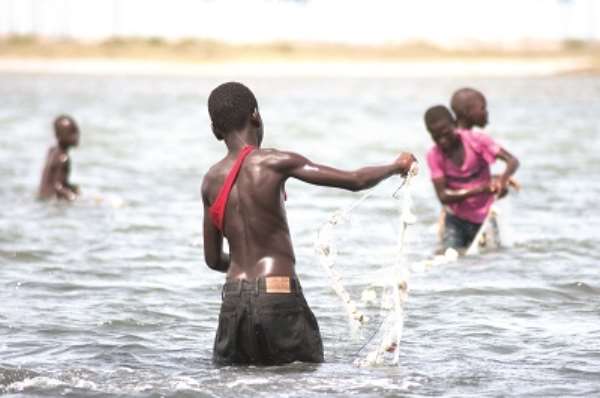 Child labour is one of the grievous enemies of nation development. Not only does it affects the individual life of the child and his/her future, but rubs the nation's future leaders. Children are the only surety of every nation's future existence and when this valuable insurance of the nation are rocked with child labour in perpetuity, we can only rely on faith to save us, otherwise we must do everything humanly possible to rescue our children from the cancer.
In Ghana, every rural or urban community is faced with serious and dangerous forms of child labour. These forms of child labour are found in farming, fishing, quarrying, catering, hawking, animal rearing, and many other sectors of work. Even in domestic certain, parents either intentionally or unconsciously engage children in domestic child labour. This is my story. From the recent Ghana Child Labour Report (2017), 1, 721, 914 children aged 5 to 14 years are working in various sectors with 78.7% in agricture, 3.7% in industry and 17.6 in the services sector. Out of the working children, 91.7% are attending school, meaning a hooping 8.3% are not in school. Meanwhile, 25.3% of the children are combining both schooling and work.
The herd-boy
Once upon a time in 1986, I was born into an extended family and an animal breeding community. Unfortunately for me, I was best shepherd. My uncle took me to herd cattle. I started herding the animals at the age of seven.
Animal herding was prestigious according to local standards by then and individuals could send their sons or daughters to animal owners to help in herding. If you were a good cattle caretaker, you could easily get a wife as a young man. Not only do you milk the cows for consumption, but also sell some to make money. So virtually, herding cattle and or sheep was so attractive to parents and young boys and girls. Getting cow dung to fertilize farm lands annually was a target for most family and household heads.
I shepherd the animals for eight good years, face all the consequences of the well-dreamed occupation of many by that time. It was difficult getting sandals to wear. For clothes, I prefer to call them rags. The best protected body wear was the animals' skin and not all the time it was given to me to wear for herding.
There were sad days and good moments. I endured several risks. The risk of walking bare footed to care for animals in the bush for 8 years, the pain of having your body pierced with stocks, sharp objects and thorns, the exposure to snake and scorpion bites and insects, the danger of attack by robbers and other criminals, the fear of animals getting missing and being beaten at home should it happen, the maltreatment meted out on you by senior herd-boys and farmers, the threat of heavy rain-falls and windstorms, the stress involved in controlling 'notorious' animals, and the exposure to bad climates such as cold, harmattan, hot weather, winds and other disasters were some of the experiences of herd-boys.
All these I endured and never resisted herding the cattle despite all the consequences. At herding I was always punctual and respects every herd-boy, junior or senior. I obeyed the instructions of the senior herd-boys and engages not in any form of laziness, backbiting or indiscipline. I herded the cattle with passion, diligence, commitment, and perseverance though I never wished to be caretaker for animals. Had it not been God who saved me and I was later able to go to school on a shift basis with my sibling, today I couldn't have known ABCD let alone talk of writing articles like this.
About 99% of my friends whom we herded cattle together never had any opportunity to go to school or enter into any form of vocation or handwork. There were many other children less than 15 years who were not herding but engage in stone picking, firewood making, farm labour (by-day), shea-nut picking, and dawadawa hunting. All these children never had any opportunity to be in school and today, their lives rely solely on hand-to-mouth, contributing nothing to the country's development. Most of them seem almost liabilities to themselves, their partners and the nation.
By the grace of God almighty, I struggled on with hunger, pain and trauma like though I was an orphan in the desert. I tasted every bit of the impact of child labour: pains, not regular in school, sickness here and there, psychological trauma. But I never lost hope nor give up in school. I or my sibling have never written exams in all the subjects from primary one (P1) to primary six (P6) due to interruption from herding cattle, but the few subjects that I wrote, I made sure I pass well. I can never forget my class one to two teacher Mr. Francis who at that time saw some goodness in me and continue to encourage and inspire me never to give up education no matter the circumstances. Mr. Francis, I'm ever indebted you and pray that God gives you your due reward.
With inspiration from my teacher, I struggled throughout JHS and SHS, doing "by-day" labour to raise money to support the little from my parents. Today, God has rewarded me with a degree, a job and a salary. Child labour couldn't stop me due to God's intervention, but this cancer has rubbered many of my childhood friends and mates of their future glory of education and its fruits.
The solution to Child labour
All of us as Ghanaians cannot pretend that child labour doesn't exist, it is an old-age cancer that continue to rubber this great nation from time immemorial till date. We must not sleep and expect miracles. We must work to over it.
To curb this menace, we need a collective holistic and integrated broad-based approach to tackling this canker. Child labour is an all-encompassing social problem and so only a solution which is all-encompassing (social, economic, cultural, religious and political) can eliminate it. Government need to play leading role in this regard by providing the policy, legal, and social intervention framework for the canker to be dealt with. Government must provide good governance by implementing initiatives that will reduce extreme poverty in the country to the lowest minimum.
Academic institutions such as schools and their management bodies like Board, School Management Committee (SMC), Parent Teacher Association (PTA) and teachers must play critical role in controlling children in school and providing proper educational services and guidance and counselling. Research institutions must not relax in their bosoms, they have to conduct investigations into the issue and come out with profound and efficacious solutions to this social evil.
Civil society and non-governmental organisations must provide adequate advocacy and raise awareness level of parents to increasing their proper understanding of child labour and its implications for the development of the children. They must also support government and implementing agencies with technical ideas, capacity enhancement and funding to be able to execute the necessary actions to curtail this menace.
The parents even have greater responsibility in protecting their children and not using or exploiting these children by engaging them in child labour activities. We cannot end poverty by using them for detrimental activities. Child labour perpetuates extreme poverty and greater vulnerability of the family. The best place for the child to work is the classroom.
The traditional and local leaders must find-tune the socio-cultural norms and laws in order to protect children from all forms of dangerous activities. Traditional leaders are gate keepers of their communities and their people and should not relent on this duty. The honour society gives you as a chief is because of the responsibility you are carrying, and so this duty should be shunned.
The law enforcement agencies must up their game in search, identify, arrest culprits and rescue children involved in child labour activities.
As we prepare to celebrate this year's International Day ((WDACL) for the elimination of Child Labour on 12 JUNE 2019, I call on parents, traditional and local authorities, CSOs and NGOs, businesses, Employer and labour unions, national agencies, central government, the international community and the media to jointly initiate resilient efforts in terms of programming, policies, mobilisations of resources, advocacy, and execution of potent actions in a coherent and comprehensive manner towards eliminating especially worst forms of child labour in our society.
All stakeholders must provide opportunity for all needy and poor families to improve their livelihoods to prevent these families from using children as bread winners. And finally, all efforts must be made to protect orphans and single-parent's children from engaging in any form of child labour activity.
All these efforts must be implemented collectively with a well-coordinated and continuous process until we get to a point where we can boldly say, we have reduced child labour in Ghana by at least 70%. This will be the only time Ghana can confidently say, we are making progress in achieving goal 8 target 7 of the global goals (SDG 8.7): "Take immediate and effective measures to eradicate forced labour and secure the prohibition and elimination of the worst forms of child labour, including recruitment and use of child soldiers, and by 2025 end child labour in all its forms". May God almighty protect and safeguard the life of every Ghanaian child and in the world.
Writer's email: [email protected] or
0240393109
27th May, 2019.