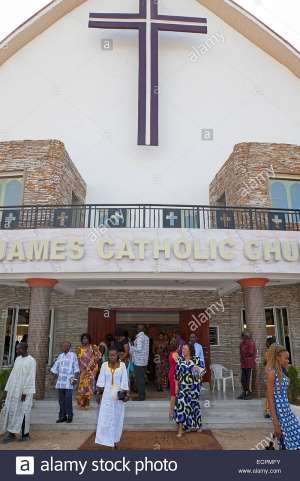 A Catholic church in Ghana
The Jirapa Municipal Police Command in the Upper West region, have confirmed the arrest and detention of a Burkina Faso national on Sunday with a loaded pistol during Sunday church service at a Roman Catholic Church in Hamile, a border community of Burkina Faso.
The 55-year-old suspect was picked up by the police during the first service after church members raised alarm over his suspicious behavior, the police said.
Information Modernghana gathered from the Upper West police indicated that the gun was loaded with two rounds of ammunition.
DSP Richard Dapilah, Crime officer of the Jirapa Municipal Police Command, said the suspect whose name is being withheld is being interrogated in the wake of terror threats on Ghana.
According to the police crime officer, all churches and their members have placed on high alert because of the terrorist attacks in Burkina Faso and other Sahel countries.
The crime officer noted that the suspect is under investigations and will be processed for court immediately investigations are over.
Upon interrogation, told police he acquired the gun in Burkina Faso and licensed it there and tendered documents on the handgun to the police.
But police told local media, the 55-year-old terrorism suspect would be charged for possessing a firearm without authorization.
The terror fears have led the police to even suggest the banning of bags from churches.
Recently, the Ghana Catholic Bishop Conferences has issued a note urging all churches to take the terror threats serious and if possible ban the use of bags in churches to reduce the risk of an attack.
The Christian Community have also held meetings with the country security agencies over the attacks, where churches were encouraged to improve security in their premises and worship centres over possible terrorist attacks.
Other churches in the country have taken the terrorists attack threats serious and have improved security measures in the wake of attacks by Islamic extremists.
A resident who collaborated the incident to Moderghana via telephone said it has wake up many Christians in the region and that information has been sent out for churches that hold All-Night services to ensure maximum security.