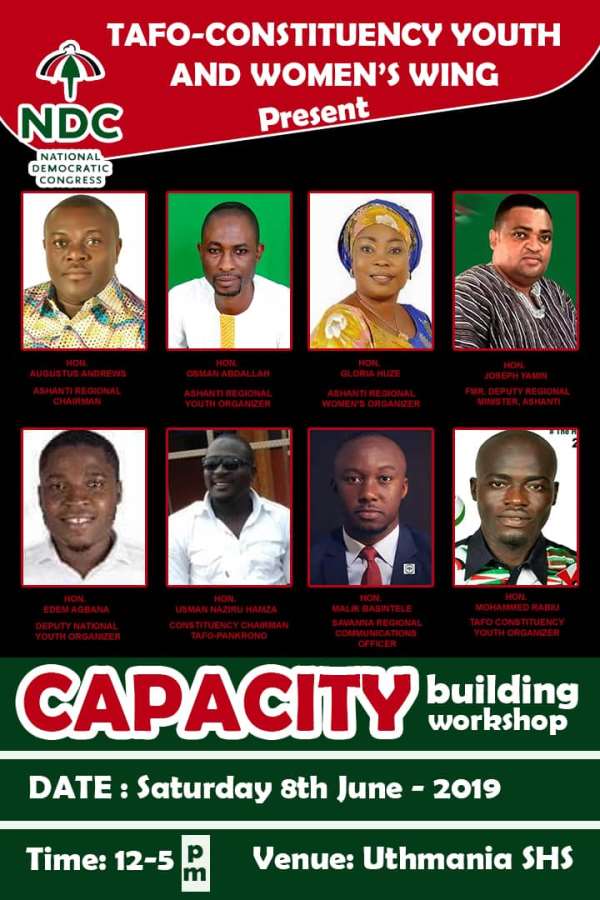 This portal has gathered that there is some bad blood between the current chairman Augustus Andrews and the former Deputy Ashanti Regional Minister in the erstwhile John Mahama administration, Joseph Yamin, which is worrying the party's peacebuilding efforts towards election 2020.
Some prominent members within the NDC have begun a reconciliatory exercise aimed at uniting the front of the largest political party in opposition, with a capacity building workshop ahead of the 2020 elections.
According to our sources, the former Minister went ahead to form a parallel administration in the region to undermine the efforts of the current administration when his camp felt their candidate was cheated at the elections.
This bad blood between the elected Regional Chairman Augustus Andrews and former Deputy Minister for the Ashanti region, Joseph Yamin, ModernGhana has gathered, is having a great toll on the activities of the party in the stronghold of their opponent.
A lot of interventions by some stalwarts in the party at both regional and national levels that tried to get these people and their supporters to soften their stands for the party to be able to unit against its biggest rival party in the region, has fallen on deaf ears.
However, all is about to change with this Capacity Building Workshop being organized by the Tafo-Constituency Youth and Women's Wing to be held at Uthmania SHS on Saturday, June 8, 2019.
Organizers of the workshop hope to leverage on the upcoming capacity building workshop to bring all feuding factions of the party in the region together to unite ahead of the 2020 elections.
They believe that all the undercurrents of unhealthy rivalry among some known factions in the party in the region which has been affecting the effectiveness of the party to mobilize itself against their political opponents in the region will come to an end if the leadership of the factions attend the programme as they have confirmed.
The Tafo Constituency Youth Organizer, Alhaji Mohammed Rabiu is optimistic this workshop may be the turning point for things to be done right in the region since the main blocks of the different factions have declared their intentions to attend the workshop.
According to him, "the acceptance of the leadership of the feuding factions to be present at this workshop, will send a signal down to their supporters about the new agenda for peace to enable the party recapture power".
The Capacity Building Workshop dubbed: "Unity for Victory 2020, "is expecting some prominent people in the party at both the regional and the national level to address the gathering.
Among these people include; the Ashante regional Chairman, Augustus Andrews; Ashanti Regional Youth Organizer, Osman Abdallah; Ashanti Regional Women's Organizer, Gloria Huze; and a former Ashanti Regional Deputy Minister, Joseph Yamin.
The rest include: Deputy National Youth Organizer, Edem Agbana; Tafo-Pankronu constituency Chairman, Osman Naziru Hamza; Savana Regional Communications Officer, Malik Basintele; and Tafo constituency Youth Organizer, Alhaji Mohammed Rabiu.