Ghanaian Youth Disappointed In Akufo-Addo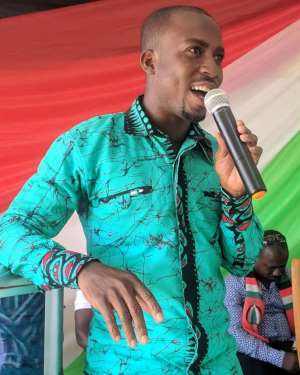 Inching closer to the 2016 general elections exercise, the then Flagbearer of the New Patriotic Party (NPP), Nana Addo- Danquah Akuffo Addo, promised the Ghanaian youth jobs, through the private sector. To poison the youth with hatred against president John Dramani Mahama, he insinuated that the suffering of the jobless Ghanaian youth had reached a crescendo and promised to make the economic environment so well as to helping the private sector to see a geometrical progression in terms of growth so that the sector can employ the youth of this country, if he was given the nod as President of this country. His dreams came true and his rhetorics succeeded in convincing the unsuspecting Ghanaian Youth. He became President.
However, when he assumed the reign of governance, out of supreme & irrepressible incompetence, the private sector started collapsing: nine indigenous banks which had gross stock of people's cash collapsed and many Ghanaians lost their jobs. Some media houses laid off their workers. Some brewery companies & even TOR laid off their workers because of the bad economic conditions visited on them by the clueless NPP government.
Then came the knee jerk reaction - the crafting of the social intervention policy called NABCO - Nana And Bawuia Corruption Organization. Let me place on record that any effort on the part of any government towards the provision of jobs for our citizens is good, but NABCO, which is an extended form of national service, can't replace the permanent and highly paying jobs that people have lost. One thing people should also take note of is that, with the implementation of NABCO, NYEP has stopped employment. The above problems of NABCO notwithstanding, Ghanaians praised it, thinking that it will bring temporary relief to our youth.
Because the president and his 123 Minister were in a hurry to lick the intestines of the ordinary Ghanaian, what do we see! True to the nature of the New Patriotic party, they started the policy without a blueprint and with lies and for the saying that if you build your house with saliva, it's dew that will push it down, the feet of the policy has been wobbling in wagging dumsor.
In the first place, in their communication at that time, they claimed they brought hundred thousand youth to a place which couldn't contain hundred thousand people. Aside this lie, they said they were going to pay them seven hundred Ghana cedis every month. When we took to our calculators and multiplied the seven hundred Ghana cedis by the hundred thousand people they claimed they had employed, we got 70,000000.00 & when we multiplied the 70,000000.00 by 12 months, we got 840,000000.00. Then we looked into the 2018 budget & only 600,000000.00 was allocated for NABCO. This amount of money couldn't pay salaries alone, let alone take care of the administrative cost of the programme which at least would be around the neighborhood of 200,000000.00. So, you see why some of the NABCO coordinators said, sometime ago, that they begin order to survive. So, if coordinators are crying, what will the ordinary employees under them do? For many months today, they are working on empty stomachs & this has taken them to the foundation of their trust & confidence in Nana and his NPP government.
What is more worrying is that fact that anytime these poor NABCO workers threaten to embark on demonstration, Government will quickly pay them one month allowance. It's an undeniable fact that government is owing NABCO workers fours months of arrears and in some instances five months
The next NDC government in 2021 is set to approach youth unemployment in a more pragmatic manner than this lazy man's approach.
IF THE FUNDAMENTALS ARE WEAK, NOTHING CAN STAND UPRIGHT.
NDC Deputy Regional youth Organizer - Bono East Region
Obeng Agyenim Boateng
📞 0555790101