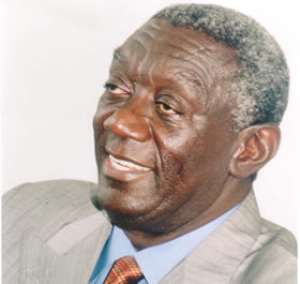 Accra, Jan. 19 GNA - President John Agyekum Kufuor said on Thursday that Ghana would have to hasten the pace of its present economic growth by moving away from the traditional approach, if the country were to achieve the Millennium Development Goals (MDGs).
Consistent economic expansion had been achieved over the last five years but the growth rate was not fast enough to take the nation to where it wanted to be, he said at the opening of a two-day World Bank meeting on Strategic Partnership for African Development at the La Palm Royal Beach Hotel.
Gross Domestic Product (GDP) improved from a growth rate of 3.7 per cent in 2000 to provisional estimate of 5.8 per cent as at the end of last year.
Ghana has to hit at least eight per cent growth rate to significantly reduce poverty, something President Kufuor said was not impossible.
Senior Government officials, the Trades Union Congress (TUC), Association of Ghana Industries (AGI), Private Enterprises Foundation and experts from the World Bank including its Vice President for Africa, MrGobird Nankani are attending the meeting.
It would provide a platform for stakeholders of the economy to brainstorm and identify the central key to the achievement of the required growth rate. In view of its importance, President Kufuor suspended a meeting of his Cabinet that was slated for the day. Issues being discussed include growth and exports, wages, productivity and growth, private sector development and the business environment, infrastructure investments, efficiency and growth and financing of development
President Kufuor said he has a strong belief that through private sector development, the country could pull itself out of economic stagnation.
The Minister of Finance and Economic Planning, Mr Kwadwo Baah-Wiredu, said evidence from within Africa, East and South Asia showed that poverty could not be reduced without accelerated economic growth.
"Despite the many positive developments on both the macro and micro fronts, we admit that some of the fundamentals need to be looked at critically."
He said to sustain the country's current growth pattern, the private sector and business community should be important partners of Government to create jobs and economic opportunities to launch the country on the path of accelerated growth.
Mr Baah-Wiredu described as gratifying, the arrangement where debt relief provided funding directly to the budget rather than through projects, saying, "this allows f unding to be allocated and thereby, increase country ownership." Mr Nankani said Ghana's record showed it was one of the star performers but at the same time, it needed to come up with new ideas and development strategy using the experiences of others nations that had achieved economic success.
Ghana has to identify actions that need immediate attention, he added.