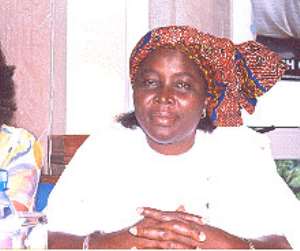 The Women and Children's Affairs minister, Hajia Alima Mahama is in trouble over her alleged walk out on her college Members of Parliament (MPs) including the Majority Leader, Felix Owusu Agyapong, and other ministers and their deputies who were all MPs at a recent caucus meeting.
Her attitude is said to have infuriated her colleague MPs who are bent on pursuing the matter, which forced Hajia Mahama to walk out of the meeting held at the residence of the Greater Accra regional minister, Sheikh I. C. Quaye.
The meeting was convened by the Majority Leader, last December, to address concerns raised by some NPP MPs over a complaint that the women's minister had out of her own discretion, disbursed an amount of ¢5.2 billion, under the Women's Development Fund (WDF), to only the three Northern regions leaving out the other regions.
The MPs were annoyed at the turn of events and questioned the rationale of the minister's discretion and decided to vent their spleen on her at the caucus meeting. But that could not take place because the minister gave an excuse that she had to attend an important meeting at the offices of FIDA, Ghana.
According to sources, her excuse was rejected by all the MPs and the Majority Leader, who impressed upon her to stay and give further explanations for her actions. But Hajia Alima Mahama, who is also the MP for Nalerigu in the heat of the debate over her request to leave, is alleged to have walked out of the meeting to the annoyance of her colleague MPs.
Hajia is said to have told her colleague MPs that she took that decision because the rains were just about setting in there and she felt they needed the money to pursue their agricultural ventures.
She is reported to have said that as far as she was concerned her decision was right and that should not be bothered about the matter. But most of the MPs are of the view that in spite of her explanations, her judgement was misplaced. The MPs vowed to pressurize the Majority Leader to revisit the issue so as to bring the women's minister to book over the alleged snobbish conduct.
"We will stop at nothing to ensure that her attitude is brought to book. We are not saying she should not give the money to the people in the North but at least it should have been spread to cover the entire nation," "Is a meeting at FIDA more important a caucus meeting? Doesn't she have a deputy who could have deputized for her? The matter will surely be revisited". The aggrieved MPs threatened that the Majority Leader will not enjoy their cooperation in other areas if he should fail to revisit the issue to bring Hajia Alima Mahama's conduct to book.