Minister's Special Assistant In Visa Scandal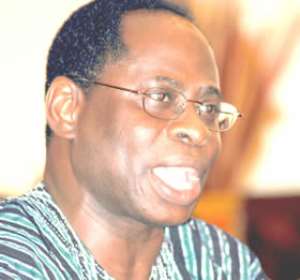 The incidence of Visa Fraud is gradually assuming dangerous proportions, with the perpetrators of this crime going to all lengths to achieve their objective of duping their victims, including dropping names of influential persons. This time, it is Kofi Konadu Apraku, Minister for NEPAD and Regional Cooperation, whose name has been dragged into the fray.
Investigations by CITI NEWS have revealed that Mr Eric Gregory Kwatia, Dr Apraku's former Special Assistant, and a leading member of the Ashiaman constituency branch of the ruling New Patriotic Party (NPP), used his boss' name and his "links to the Castle," on several occasions to secure visas for his 'clients' at a fee. He was, however, unlucky in his latest escapade after allegedly collecting $2,000 and $1,500 from Osei Akoto-Baffuor, a 29 year old Kumasi businessman, and David Asare also of Kumasi.
Mr Kwatia had allegedly collected the said amount from the two men as part payment for a visa contract he was to execute for them. Each visa was to attract a fee $6,500. Mr Kwatia, according to our investigations, was under a one month 'contract' to deliver visas to Mr Akoto-Baffuor and Mr Asare for the United States of America and the United Kingdom respectively.
"I Eric Kwatia acknowledge receipt of an amount of $2,000 from Osei Akoto-Baffuor at Kumasi on June 8, 2005. This for the execution of a project agreed upon by both parties (sic)," was how Mr Kwatia disguised the 'visa deal' in a handwritten receipt to Mr Akoto- Baffuor.
Again, in a handwritten receipt to his other 'client,' Mr David Asare, Mr Kwatia wrote: "…A receipt of an amount of $1500 received from David Asare to undertake a project for him." Both receipts, which were on A-4 sheets of papers, copies of which are in the possession of CITI NEWS, bore the signature of Mr Kwatia and were dated "8/6/05" and "18/11/05" respectively.
CITI NEWS investigations revealed that a month after his apparent failure to fulfill his part of the contract, Mr Kwatia was approached by Mr Akoto-Baffuor for an explanation. "Kwatia told me that he has all the powers to get me a US visa by July ending," an aggrieved Mr Akoto-Baffuor told CITI NEWS. "He said he has "links to the Castle, he is the Special Assistant to Dr Apraku, and that he has links to all the foreign Embassies here in Ghana and could therefore secure me a visa to any destination of my choice in no time."
When he confronted him about the long delay in the procurement of the visa, Mr Kwatia explained that there had been some changes at the US embassy and that he was working hard to develop a good rapport between him and the new officials at the embassy.
"He explained to me that the Ambassador to Ghana has been changed and so I should give him some time to straighten up things with the new Ambassador," Akoto-Baffuor further told CITI NEWS.
But, what perhaps broke the camel's back was when the 'Visa Contractor' gave him a bad Cheque. Mr Kwatia had issued a cheque for ¢18,600,000, being the cedi equivalent of US$2,000 at the time. The bad cheque, which bears the official stamp of the Tema branch of Ecobank, was dated "15/11/05" and was to be withdrawn from account number "1701172350118."
"When I went to the bank and was told that Kwatia has not even a penny in his account, I got alarmed and convinced that Kwatia is a fraud. So I decided to have him arrested and prosecuted for defrauding me," said Mr Akoto-Baffuor.
Late last year, Mr Kwatia was arrested by the Legon Police in connection with the alleged crime while in the middle of a meeting with Akoto-Baffuor at the Legon On The Run, a popular restaurant located along the road to the University of Ghana, Legon.
Police sources told CITI NEWS that Mr Kwatia had been pleading with Mr Akoto-Baffuor to give him time to pay up the difference so the matter could be withdrawn from the police. He has already deposited US$400 at the Criminal Investigations Department Headquarters of the Ghana Police, where the case is being handled and was released on bail, promising to bring the balance of $1,600 as soon as possible.
Reached for comments, Osman Ahmed, Public Relations Officer for the Ministry of NEPAD and Regional Cooperation said "If it is true that Mr Kwatia goes about parading himself as a Special Assistant to the Minister, then he is doing so illegally and the law must take its course.
Mr Kwatia's appointment was terminated about a year ago and has nothing to do with the Minister any longer and the Minister equally has nothing to do with him." He disclosed that Mr Kwatia's appointment was terminated after the Minister was alerted that Mr Kwatia was using his name to defraud people. Mr Ahmed could however not say why Mr Kwatia, despite having been indicted by the Bureau of National Investigations (BNI) for the alleged crime, was not prosecuted by the state.