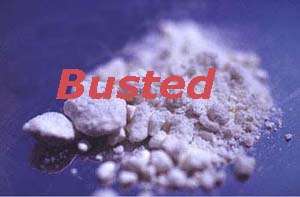 Accra, Jan. 18, GNA - A worker at the Bank of Ghana (BoG), who allegedly attempted to smuggle two parcels of Indian hemp to London in the name of the Bank was Wednesday granted 200 million cedi bail with two sureties when he appeared before a Circuit Court in Accra. Francis Opoku Agyemang, whose plea has not been taken, is charged with possessing narcotic drug without lawful authority.
When the case was called, Agyeman's counsel renewed his application for bail saying if the key suspect, who is on the run, was apprehended it could go a long way to assist his client during the trial. Prosecuting, Assistant Superintendent of Police (ASP), Mr George Abavelim did not object to the bail but impressed on the court to admit him on bail with a substantial surety.
The ASP noted that efforts put in place by the police to get the key suspect in the case had proved futile, adding "we need the accused person to assist the police to get the alleged key suspect and therefore accused must be compelled to report to the police every Tuesday." This, the court obliged and admitted Agyemang to bail and the adjourned the matter to February 15.
Meanwhile a duplicate docket has been forwarded to the Attorney General's Department for advice, prosecution said. The case of the Prosecution was that Agyeman deposited two parcels in DHL express envelopes at a BoG security desk to be dispatched to someone in London in the name of the Bank.
Unfortunately, BoG had earlier changed accounts with the DHL, so the DHL official rejected the parcel.
The DHL official, therefore, requested BoG security officials to re-label the parcel and requested the sender to sign. Prosecution said BoG security officials examined the content of the parcel and found them to contain three compressed brown substances suspected to be narcotic drugs.
Agyeman admitted depositing the two parcels and their contents with the security desk but said he was only helping one Paa Bonsu to send the parcel to a friend in London.
Prosecution said the substance has since been sent to the Ghana Standard Board for examination. 18 Jan. 06