Education devt is Govt's top priority - JAK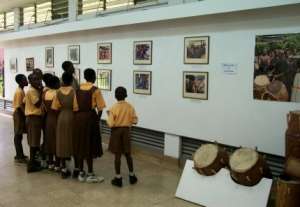 Accra, Jan. 18, GNA - President John Agyekum Kufuor's participation in the programme to launch educational and teaching materials for schools in Ghana by the American First Lady, Laura Bush demonstrated the high premium placed on education by the Government.
It also sought to inform Ghanaians of his personal interest to intensify the growth of education in the country.
This was contained in a statement Mr Kwabena Agyapong, Press Secretary and Presidential Spokesman, issued in Accra on Wednesday. It said: "This policy direction is premised on the three-priority strategy developmen t of Government with human resource development as a key feature." The statement expressed satisfaction with the impressive increase in basic school enrolment as a result of the implementation of the Capitation Grant, a system that allows every Ghanaian child to have access to free basic education. Basic school enrolment had gone up by 17 per cent this academic year according to statistics released by the Ministry of Education and Sports.
The statement also made reference to new incentive packages for teachers announced by President Kufuor during the just ended Second Quadrennial Delegates Conference of the Ghana National Association of Teachers and said it showed how "Education is very dear to his heart." 18 Jan. 06