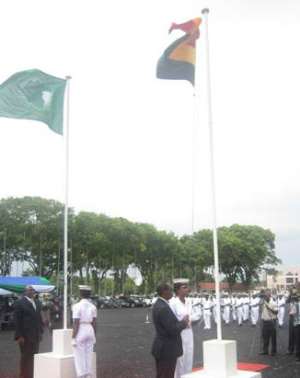 There is a wicked, but quite predictable, irony in the bad and cheaply staged lament by some well-known Ghanaian politicians and faux-diplomats over the all-too-savvy decision by the Akufo-Addo-led government of the New Patriotic Party (NPP) not to unwisely and unnecessarily add onto the already humongous bill of the overworked and woefully underpaid Ghanaian taxpayer by redundantly celebrating the so-called African Union Day as a paid statutory holiday (See "Mourning AU Day – for Now…." Modernghana.com 5/27/19).
Yes, there is a wicked irony here because even as I write, quite a remarkable number of Ghanaians, Nigerians and other Africans are being rudely rounded up, tortured and brutally mauled, humiliated and systematically lynched by some indigenous South African citizens, while the African National Congress (ANC) government of President Cyril Ramaphosa looks on calmly as if this was just another benign celebration of democratic African-majority rule in the South Africa of the mid-1990s. And the major crime of these non-native continental African-born victims is for simply attempting to improve the quality of their lives by migrating to South Africa.
Maybe these native-born South African thugs and human-butchers need to be reminded of the fact that there was, indeed, a time during the globally infamous white-racist regime of Apartheid, when a quite remarkable number of yesteryear's and today's leaders of the ruling African National Congress and the Robert Sobukwe-founded and led Pan-Africanist Congress (PAC) lived comfortably undisturbed while they feverishly worked around the clock to facilitate the auspicious removal or overthrow of the Apartheid regime, with the capital-intensive military and other material support of these continental African home governments.
It is also ironic that those who are rabidly carping the Akufo-Addo government for wisely saving Ghana the heavy expense of another flippant excuse for a financially wasteful holiday, have yet to seriously address the very criminal and scandalous mauling and systematic lynching of the aforesaid indigenous Africans by some of their fellow South African-born indigenous African citizens, beyond half-hearted and self-preening condemnation of such wanton acts of inexcusable violence against fellow Black-Africans. And, of course, on the latter count, it is equally ironic and scandalous to reckon the fact that even as I write, the City of Midrand, South Africa, serves as the seat or Parliamentary Headquarters of the African Union.
So, we need to ask that perennial Ghanaian frustration-tinged question: "Did we go, or did we come?" I have personally had the privilege of being resoundingly, by acclamation, inducted into the African National Congress as an "Honorary Member," while I was an undergraduate student of the City College of New York of the City University of New York (CCNY of CUNY), in the 1990s, for championing the cause of South Africa's liberation in the media, so I was not altogether flabbergasted to read about and watch videoclips of non-native South Africa-resident indigenous Africans being brutally and savagely mauled by their fellow Africans of South-African descent. You see, the prolonged culture of Apartheid created a reflexive counterculture among the victims of this most horrible and depraved and immitigably uncivilized Dutch-brewed system of governance, or rather mis-governance.
I have even come dangerously close to calling on the Akufo-Addo government to demand the immediate suspension of the operations of the African Union Parliament, until the Ramaphosa-led government of the African national Congress could definitively stem the primitive and barbaric tide of deadly violence by these Black-native South Africans against their fellow Africans of non-South African descent. I have also profusely wept to hear Mr. Julius Sello Malema passionately decry such wanton acts of violence against "Foreigner Black Africans" by some native-born South Africans in black-majority cities like Durban.
So, what Ghanaian opposition leaders like Mr. Samuel Okudzeto-Ablakwa, who is about the same age as Mr. Malema, leader of the Economic Freedom Fighters Party (EFF), ought to be constructively and intelligently discussing is why, in the face of such nauseatingly inhumane Black-on-Black-Violence and apocalyptic mistreatment, it is still wise and meaningful for Ghanaians to canonize and celebrate African Union Day, on May 25, almost as if our very lives inextricably depend on this largely talk-shop organization more than the lives of the citizens of any other African nation or people.
Now, don't give me this poppycock or twaddle or malarkey about the phenomenal leadership contribution to the foundation and establishment of the erstwhile Organization of African Unity (OAU) of President Kwame Nkrumah, Ghana's first postcolonial leader. By the way: Are Ghana's opposition party leaders, especially those belonging to the main opposition National Democratic Congress (NDC), the most unintelligent and self-hating politicians on the African continent?
*Visit my blog at: kwameokoampaahoofe.wordpress.com Ghanaffairs
By Kwame Okoampa-Ahoofe, Jr., PhD
English Department, SUNY-Nassau
Garden City, New York
May 28, 2019
E-mail: [email protected]