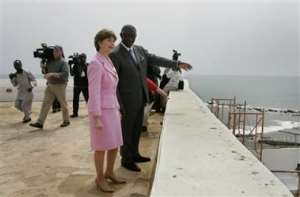 Accra, Jan. 17 GNA - The American First Lady, Laura Bush on Tuesday paid a courtesy call on President John Agyekum Kufuor at the Castle, Osu, the seat of the Government, to round off her three-days visit to the country.
The visit is seen as a highpoint in the ever growing and continued strengthening of the relationship between the United States and Ghana. At the Castle, Mrs Bush was treated to cultural drumming and some intricate acrobatic displays before being conducted round by President Kufuor.
The President later hosted her to a private launch. Earlier in the day, she had launched the Textbooks and Learning Materials Programme (TLMP), a component of President George Bush's Africa Education Initiative (AEI), at the Accra Teacher Training College and interacted with HIV-AIDS patients at the Korle-Bu Teaching Hospital. Ghana and five other sub-Saharan nations including South Africa, Senegal, Ethiopia, Tanzania and Zambia are benefiting from the 600 million dollars AEI, which would cover an eight-year period. Mrs Bush who arrived in Ghana last Sunday has since left for Nigeria.
In another development, President Kufuor has granted audience to Mrs Brigitte Girardin, French Minister of State in charge of Co-operation and Development.
She is in the country to help to review and deepen the co-operation between France and Ghana.
Mr Kwabena Agyepong, Press Secretary and Presidential Spokesman, later in a press briefing announced that France would commit 200 million Euros to the development of Ghana's infrastructure, water, sanitation and culture under a five-year agreement. President Kufuor, he said, saw France as a strategic development partner and expressed happiness at the new high-level relations between the two countries.