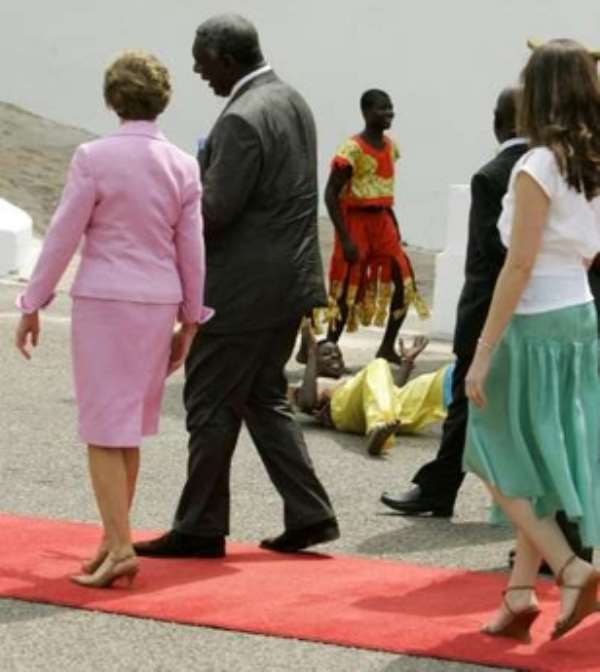 Accra, Jan. 17, GNA - The First Lady of the US, Mrs Laura Bush, ended her three-day visit to Ghana on Tuesday during which she visited the Fevers Unit at the Korle Bu Teaching Hospital where People Living With HIV/AIDS (PLWHAs) are on admission. Mrs Bush also launched the Textbook and Learning Materials Programme (TLMP) at the Accra Teacher Training College that is a component of the Africa Education Initiative (AEI) announced by President George Bush in June 2002. About 25,000 books would be given to the libraries in Ghana and 300,000 teachers would receive training under this programme. She flew to Abuja, Nigeria, on the final leg of her three-nation West African tour that has already taken her to Liberia where she participated in the inauguration of Liberian President Ellen Johnson-Sirleaf on Monday. She was seen off by a government delegation including Mr Allan Kyerematen, Minister of Trade and Industry and Mrs Oboshie Sai Cofie, Deputy Chief of Staff, Office of the President. Mrs Bush, 60, was the second US First Lady to visit Ghana in eight years after Hillary Rodham Clinton, who accompanied her husband, Bill, to Ghana in March 1998.
Currently, Mrs Bush is actively involved in issues of national and global concern, with a particular emphasis on education, health care and human rights.
She is Honorary Ambassador for the Decade of Literacy of the United Nations Educational, Scientific and Cultural Organization (UNESCO), serving as an international spokesperson for efforts to educate people throughout the world, especially women and girls. Her daughter, Barbara, accompanied her.