Ghana Railway off divestiture list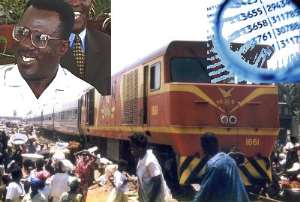 The Ghana Railway Company has been taken off the divestiture list.
The move, which was endorsed by the Cabinet after recommendations from the Ministry of Harbours and Railways, is intended to allow the company to use its assets to source funds to rehabilitate and extend rail lines to other parts of the country.
It will also empower the ministry to consider a number of options that will make the sector more attractive to both local and foreign investors.
Sector minister, Prof Christopher Ameyaw Akumfi said the prolonged retention of the company on the divestiture list made it virtually impossible for it to attract investors or raise loans locally or abroad for major rehabilitation of plant and equipment.
Most of the rail tracks in the country have been abandoned and left to rot, a situation, which has encouraged some recalcitrant land developers and squatters to build very close to the rail tracks.
It was against this background that the company was put on divestiture last year.
A UK based consortium, United Rail, won the bid to take up the management and rehabilitation of the sector nation wide.
Talks between the government and the consortium ground to a temporary halt as result of a thorny issue which hinged on the payment of severance awards totaling $27 million to workers of the company, whose services would not be required when the new management took over.
Professor Ameyaw Akumfi said the government has decided that instead of releasing the company outright to one investor, it was now prepared to enter into a joint partnership agreement with a number of prospective investors.
" If it even requires seeking multi- lateral assistance, we will explore that to the letter once we are in that partnership," Professor Ameyaw Akumfi said.
He explained that this option would not have been possible, if the company remained on the divestiture list.
Asked about the fate of the United Rail in the face of this new approach adopted by the government, he said the intention was to get the UK based consortium out of the race.
However, he said the United Rail could tell which of the lines it preferred to invest in for the negotiations in that respect to begin.