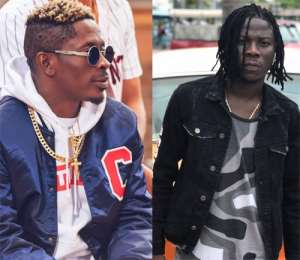 Shatta Wale and Stonebwoy
The strict law on the licensing of firearms is on purpose. We do not have to belabour the security importance for doing so.
We are already saddled with too many unlicensed weapons in the hands of persons with dubious characters.
There is no denying the fact that not all persons in society must own firearms. Some persons because of their temperaments do not qualify to possess weapons, not even for personal protection – the reason they go for such licenses.
In the past few days, the ownership of firearms by two dancehall artistes and possibly some of their followers and their despicable conduct trended in the public space.
The scene created, when two of such persons engaged in a brawl and firearms, has left a bitter experience in the minds of many a Ghanaian. Many Ghanaians held their breath as they waited to see whether like it has always been the suspects in the case would be arrested and arraigned or not.
We must express satisfaction that Ghana is witnessing a major turnaround in the matter of the application of the law.
Now that they are on bail the action taken so far has sent the appropriate signal that nobody is above the law, celebrities or not.
It is our opinion that the two suspects must be suspended from possessing firearms for a certain period. We would have wished that they lose that privilege totally but for fear of the suggestion being deemed rather excessively harsh.
Young men who exhibit the kind of boyish exuberance seen in the dancehall artistes and others in their mould should not come near firearms, let alone own them. If they must own them because they have satisfied the accompanying conditions, an effective monitoring mechanism must be thought out. We still dread what could have happened during the music awards night and its bloody fallouts.
The ease with which pistols were drawn on the date under review says it all about how such youth can fire their weapons at the least provocation. After all, many were high and therefore unable to control themselves under the prevailing circumstances.
With the rivalry between the two men still fierce and nowhere near abating the firearms licensing officers in the police must take another look at the renewal of their licences.
We wish to advise that in future when such activities are going to be held, weapons should not be allowed into the venues.
The law should take its course.