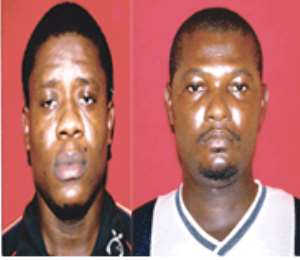 Two catering staff who took advantage of their services on board an aircraft to smuggle cocaine abroad have been arrested.
Daniel Sarpong and Frederick Cofie, Catering Supervisor and caterer respectively, were arrested at the Kotoka International Airport (KIA) on December 29, 2005 after they had parcelled 6.3 kilogrammes of cocaine in the back-galley washroom of an aircraft.
The two are currently in custody pending further investigations.
A source at the Narcotics Control Board (NACOB) told the Daily Graphic that on the said day, while members of the new crew were doing pre-flight inspection, one of the crew members detected some unusual six-large parcels hidden at the back base of the washroom.
It said the attention of the Captain of the flight was drawn to it, and he, in turn, informed officials of the NACOB at the airport to check on the said parcels.
The source said a test on the parcels proved that they were cocaine.
It said the officials initiated investigations immediately by inviting all those who had worked on the aircraft that day, including the cleaners.
It said 40 people were interrogated and subsequent follow-ups narrowed the investigations to Sarpong and Cofie.
According to the source, Sarpong was seen moving from his duty post at the front galley to the back several times.
The source said Sarpong was also seen entering the washroom where the parcels were found.
It said Sarpong, however, denied all the accusations levelled against him.
It said as a supervisor, Sarpong was also to have written a report to his employers but did not do so, neither did he even notify any of his superiors verbally on what had taken place.
The source explained that under normal circumstances, the catering staff were the persons who handed over the aircraft to the crew showing them the various foods, among other things.
It said when Sarpong was taken to his house for a search, $8,000 was found and he could not explain how he came by the money.
According to the source, although Sarpong claimed the money belonged to his girlfriend, who, he claimed, was dating a whiteman, the suspect could not mention the girlfriend's name, neither did he know where she stayed or her telephone number.
A search on his mobile phone also showed pictures of the parcels Sarpong had taken with the phone at the lavatory.
The source said a check on the pay-slip of Sarpong also indicated that his salary was ¢1.2 million.
It said Sarpong had also bought a ¢40-million Opel Vectra in November last year.
It said Cofie, in whose domain the drug was found, allegedly feigned illness when the crew came on board, and a colleague of his had to do the hand over on his behalf.
"This was unusual," the source said.
The source said although Cofie claimed to have been ill and allegedly notified his employers, his employers had no record to that effect.