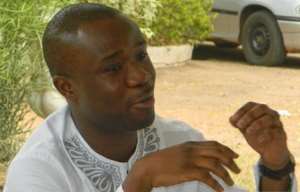 Felix Kwakye-Ofosu
He actually calls his own intelligence and common sense into question, whether he is aware of this or not, when Mr. Felix Kwakye-Ofosu impugns the political credibility and moral integrity of former President Jerry John Rawlings by inferring that the founding-father of the National Democratic Congress (NDC) is a reckless and veritable outlaw who, twice, staged a bloody coup d'état (See "$3 M Mansion Saga: 'Coup Plotter' Rawlings Must Speak & Act Like An 'Elderly Person' – Kwakye-Ofosu" Peacefmonline.com / Ghanaweb.com 5/18/19).
The first most logical question to ask here is that if, indeed, the former Mahama Deputy Communications Minister felt so strongly about the character, personality and integrity of the founder of the National Democratic Congress, then what really motivated this self-righteous political upstart to think of trucking with the man whom he now claims to be woefully bereft of dignity and integrity. I bet my proverbial bottom-dollar that the Asebu-Kwaaman native will live to regret the day and moment that he made the preceding remark that has been widely attributed to him.
The bone of contention here, as it were, regards a June 4th Address that the architect of the bloodiest mutiny in the Ghana Armed Forces (GAF) is reported to have given at the Madina, Accra, Social Welfare Hall, last year, in which former President Rawlings is alleged to have lambasted a thoroughgoing corrupt Deputy Minister of his own political party, who was alleged to have purchased two mansions worth $1.5 Million (USD) each in the immediate wake of the NDC's massive loss in the 2016 polls. The unnamed minister is alleged to have kept one of the aforesaid mansions to himself and given the other to his wife as a gift. A birthday present or a wedding-anniversary gift, perhaps.
Well, as the immortalized reggae legend Robert Nesta Marley (aka Bob Marley) once riffed in one of his legion evergreen numbers, "Whoever the cap fits must wear it." The Akan have a saying that "Every innuendo knows its target of tirade." Mr. Kwakye-Ofosu has apparently decided that, indeed, the founding-patriarch of the National Democratic Congress was referring to him when the man who shamelessly solicited and received some $5 Million (USD) liquid cash from Nigerian strongman Gen. Sani Abacha, late, alluded to his anonymous crooked politician of dubious financial means who paid hard currency upfront for the two aforementioned mansions.
We must, however, also quickly and significantly point out that the former Deputy Communications Minister has vehemently denied ever entering into the humongous transactions attributed to him. But, of course, Mr. Kwakye-Ofosu does not make matters any easier for himself, when he equally vehemently asserts that he has an inalienable democratic and constitutional right to purchase any properties wherever he chooses to. It is also interesting to underscore the fact that Mr. Kwakye-Ofosu does not explain or let on to his audience the fact of whether, indeed, he has an amount of $3 Million (USD) in hard currency in either his personal bank account or somewhere in his private vault whose physical existence he could strictly and systematically account for, in terms of legitimately acquired assets and properties when Mr. Martin ABK Amidu comes calling.
Indeed, as of this writing, Mr. Kwakye-Ofosu was reported to have personally disclosed having found his name listed on the list of corruption-tarred politicians and public figures whose wealth acquisition the Independent Special Public Prosecutor has an avid interest in investigating. At any rate, before he decides to take himself too seriously on the subject of whether, indeed, he has an inalienable right to acquiring the kind of wealth attributed to him by any means necessary, the former Omane-Boamah second bananas may want to do himself great good by either researching or finding out precisely why the Rawlings-led erstwhile Armed Forces Revolutionary Council (AFRC) summarily executed the far more morally upright likes of Air-Vice Marshall Yaw Boakye and Navy Commander Joy Amedume by firing squad at the Teshie Military Range.
As well, what Chairman Rawlings has recently had to say about the comparative levels of corruption that prevailed under the leadership of the erstwhile Supreme Military Council (SMC-I & SMC-II) and that of the Mills-Mahama-led regimes of the National Democratic Congress.
*Visit my blog at: kwameokoampaahoofe.wordpress.com Ghanaffairs
By Kwame Okoampa-Ahoofe, Jr., PhD
English Department, SUNY-Nassau
Garden City, New York
May 18, 2019
E-mail: [email protected]