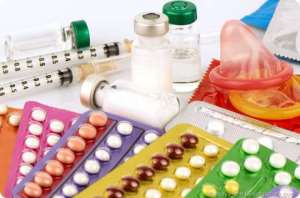 The publishing of this article on the abusive use of contraceptives by Ghanaian women is at the request of a concerned Ghanaian.Many a Ghanaian woman, especially the young girls, are hooked on to uncontrolled use of contraceptives. Their intention is not to fall into unwanted pregnancy.
As effective as the contraceptives are to helping them achieve their objective, the concomitant moral decadence the majority of the women have fallen into has become a great cause of concern needing addressing hence this publication.
I have been made to understand that because of the contraceptives, some married women, especially those whose husbands have travelled abroad, or are not living in the same towns with them for job reasons, have taken to enjoying extra marital affairs. This is because they will not get pregnant and be caught out by their partners. Wow!
What about the young girls? They are also into using contraceptives as though they are a prescribed daily intake of vitamin, to give them healthy life. Little do they know that they are not only soiling their names but endangering their lives.
At times, contraceptives can fail you. When it fails you and you are a married woman, how do you explain it away? Will you run for abortion or what? If you are a young girl and it fails you, will you go for abortion or give birth to an unplanned baby? I am told because of the effectiveness, and the confidence Ghanaian women have in contraceptives, they have become too promiscuous. Is it true or false?
Whatever the benefits are to controlling and planning births, there are other undesirable side effects. I am not a medical practitioner but from what I hear and read on the internet, the overuse of contraceptives can cause the following side effects.
intermenstrual spotting
nausea
breast tenderness
headaches and migraine
weight gain
mood changes
missed periods
decreased libido
vaginal discharge
changes to eyesight for those using contact lenses
With the use of various types of contraceptives coupled with the IRRESPONSIBLE DAILY ADVERTISEMENTS OF LIBIDINAL DRUGS BY THE GHANA MEDIA HOUSES, there is no wonder that promiscuity has become part and parcel of the Ghanaian's way of life. While the white contemporaries are exploring the outer space and inventing things or discovering new things by the day, Ghanaians are into finding the best ways to making sex. Even on this, they depend on dubiously concocted Chinese herbal drugs.
I keep asking myself why Ghanaians are dying in alarming numbers on daily basis in Ghana. Has anyone bothered themselves to find out why? Could some of these pregnancy-controlling drugs not contain ingredients or components meant for population control by way of shortening our lives? There are known instances, where quinine meant for treating or curing malaria donated to Pakistan by Britain, were finally discovered to be contraceptives. Whenever their pregnant women suffering from malaria were given the drug, they miscarried. When samples of the drugs were later taken to the laboratory to be tested by the Pakistani doctors/scientists, they were found to be contraceptives.
Ghanaians, please let us wean off our love of sex and corruption to live much longer. Because of our young girls' intake of contraceptives, they love sex to the point where their parents are scared they will get pregnant by staying longer away from school owing to the double stream of Yellow and Blue or whatever name is given to it by our free Senior High School education. As good as the system is to the poor in the society, because of the Ghanaian girls' love of sex, some parents wish the death and interment of the free SHS so that their children can stay longer at school. But who tells them that their daughters have no boyfriends at school? A bad girl is a bad girl, no matter where she is. She is like "Yefun bone, onnim se masa" – If you have a bad stomach, no matter what food you eat, you will be suffering running stomach.
Aside from the contraceptive pills and whatnot, the use of condom has its advantages and disadvantages. All in all, Ghanaian married women using contraceptives not for birth control but to safely involve themselves in extra marital affairs, may you please bow down your heads in shame!
A few days ago, when I was listening to a nice programme on Nhyira FM, a certain man on the panel said, "Kumasi ha a ye wo yi, obi yere ye obi mpena" meaning, in Kumasi where we are, someone's wife is another man's girlfriend. This means, a married woman can be playing double game in what is having extra marital affairs all for stupid reasons like wanting to get more money or simply for sexual gratification. Nonsense!
*Kumawuman shall be liberated from the dominance of Kumawuhemaa Nana Abenaa Serwaah Amponsah and her colluding irresponsible Asanteman Council. People are dying in Kumawuman for unexplained reasons at an alarming numbers never known in my time of growing up as a child. In my youthful days, it would take about a year to hear that someone has died in Kumawuman but today as I write, in Kumawu alone, they bury between ten to fifteen dead people every month. What is going on? I just want to know!
Pastors and prophets, please preach morality, salvation and hard work to your congregations but not only the benefits to derive from paying tithes, offertories etc., only to be enjoyed by you and your families, leaving out the poor in your churches. Let them also "chill" as suggested by that rogue Angel Obinim.
With God, we are victorious.
Rockson Adofo