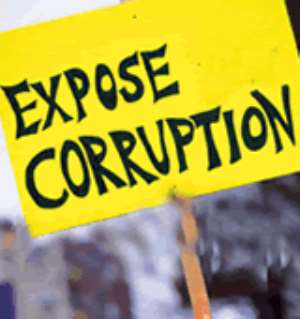 Ghanaians, who tend to be very religious people, are fond of attributing most of their problems to mystical forces. This phrase "but deliver us from evil" is one common on the lips of many who bombard God with prayers concerning their existential challenges. It is very sad to note that many of their problems have no relation to the God that they constantly pray to but rather are caused by the "men" they have empowered as their leaders who are supposed to serve them and eventually lead them to that promised land "flowing with milk and honey." For years and years on, many have hoped and are still hoping for their liberation and deliverance but to no avail.
What is the hindrance to their liberation? The evil of "Corruption". I do not want to be so academic with what in truth the concept and realities of corruption are in Ghana. But I would sum it all up in one quote I came across attributed to Mr. Ban Ki-moon (former UN Secretary General). He said, "Corruption has disastrous impacts on development when funds that should be devoted to schools, health clinics and other vital public services are instead diverted into the hands of criminals or dishonest officials. Corruption exacerbates violence and insecurity, and can lead to dissatisfaction with public institutions, disillusion with government in general and spirals of anger and unrest."
Indeed, since the inception of Ghana's political process through to the various military takeovers until the present age of democracy, one promise that has always been made to Ghanaians by leaders is to "clamp down and eradicate the canker of corruption." I honestly cannot tell where we stand in that fight. Whether we have progressed or retrogressed, I would leave that to your wisdom and honest analysis. One thing is sure though, corruption continues to rob Ghana of its abundant wealth, weakens the rule of law and public institutions and more dangerously erodes the public trust in the government and leadership of the State. Since Independence, there is the growing perception that Government related corruption is always on the rise in Ghana with Ghana consistently ranked by Transparency International as a highly prone corruption country.
In the midst of all these, the ordinary Ghanaian is still praying that "deliver us from evil." I believe that God, who should be allowed to concentrate on more important things, need not be robed into this simple issue. We have very competent human institutions who are capable of answering this prayer. I would just focus on the Office of the Special Prosecutor that was recently established in 2017 after the passage of the Office of the Special Prosecutor Act, 2018 (Act 959). The office of the Special Prosecutor, a specialized agency, was created following the President of Ghana's promise to Ghanaians before the 2016 general election, to investigate cases of alleged and/or suspected corruption related offences involving public officers and politically expose persons in the performance of their functions as well as persons in the private sector involved in the commission of alleged or suspected corruption. And also, to prosecute all corruption related offenses on the authority of the Attorney General.
Commendable many would say. Yes, I guess so! But that is what is expected of a functioning state according to the 1992 Constitution of Ghana which states in Article 35(8) that "the state shall take steps to eradicate corrupt practices and the abuse of power." My main focus, however is that the office of the Special Prosecutor carries the hopes of several ordinary Ghanaians who see it as the possible answer to their prayers. The Special Prosecutor has been entrusted with wide powers, within the confines of the law, to clamp down corruption to the barest minimum and eventually stop all forms of abuse of public office and power for parochial and private gains. As it stands now, the people of Ghana do not seem convinced that enough is being done to eradicate corruption as mandated by the Constitution. This is not to downplay the efforts of the State which has tried to decentralize the fight against corruption as well as done quite well to introduce technology into the public services as a means of reducing the means to perpetuate corrupt acts. But more can be done especially by the Office of the Special Prosecutor to heighten the confidence of Ghanaians so that their prayers are answered. An independent, proactive, non-partisan and committed institution is what Ghanaians are looking forward to see in action. More so, Ghanaians want to see an institution that is collaborating with several other anti-corruption agencies, civil society organizations and the media who are independently working to address the issue of corruption.
In conclusion, it is important to note that only a free, protected and unrestrained civil society can expose wrongdoings in high places. Successful anti-corruption efforts are often led by "coalitions of concerned" politicians, senior government officials, the private sector, citizens and civil society organizations and to be successful in the fight would require a concerted effort. The spirit of the Special Prosecutor must be a proactive and a collaborative one in order to be successful. It is now or never!
Until then, Ghanaians would still pray – "deliver us from evil!"
Reginald Nii Odoi