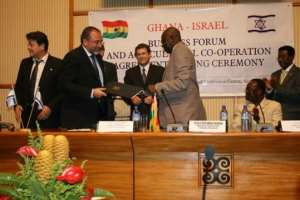 Ghana's Foreign Minister, Mr. Muhammad Mumuni, right, with Mr. Avigdor Lieberman: Photo credit-Ghana media
Israeli specialists began to actively promote the development of agriculture in African countries in the middle of the last century but after the Doomsday War, Arab countries, putting pressure on energy and financial leverage forced African states to almost completely cease official contacts with Israel.
On the other hand, the Israeli political establishment was arrogant towards African states, considering primitive and corrupt regimes totally dependent on Arab patrons. In addition, Jerusalem's foreign policy was dictated by the orientation to cooperate exclusively with the leading countries of the West and on the Palestinian issue.
The rest of the world was for the Israeli Foreign Ministry and was remembered only on the eve of the next UN vote on the Palestinian problem, and immediately forgotten again.
Avigdor Lieberman, who took the post of foreign minister in 2009, changed this course and put forward the concept of a multi-vector policy, aimed at developing working contacts with all countries seeking to cooperate with Israel.
In the Black Continent, the minister found that the Palestinian problem was of little concern to African leaders, but they were interested in Israeli investments and innovations.
It was obvious that Africa, with its gigantic resources, has enormous potential for cooperation but many African countries in recent years have faced a new threat, aggressive Islam. In Uganda, where Muslims make up 12% of the population, Islamists terrorize Christians and Muslims who converted to Christianity.
In the north of Nigeria, Boko Haram proclaimed the Sharia state. In Kenya, Islamists Al-Shabab makes bloody attacks against Kenyans. In Christian Ethiopia, Muslims today make up a third of the population and are influenced by fundamentalists.
On the other hand, in many countries in Africa, evangelical pro-Israeli movements are on the rise, and Israel is perceived as a natural ally in the fight against a dangerous enemy.
The significant success of Lieberman in the eyes of friendly African people was the proclamation of the independence of South Sudan from the fundamentalist regime in Khartoum. On the initiative of Lieberman, after 38-years, the Israeli embassy in the capital of Ghana resumed work.
During the meeting of Lieberman with his Angolan counterpart in Jerusalem in August 2012, a new impetus was given to cooperation with Angola. All of these countries, despite the opposition of the Muslim world, supported Israel's application for observer status with the African Union.
The initiative of Lieberman was picked up by Netanyahu, who now heads not only the Israeli government, but also the Foreign Ministry, and received new development after the Prime Minister's tour of the African continent last July and his current visit to Liberia. However, Israel still faces many difficulties on this road.
However, the commonality of interests with African countries with the growing weakening and splitting of the Arab world opens up new, more recently, the seemingly unattainable prospects for interaction between Jerusalem and the Black Continent.