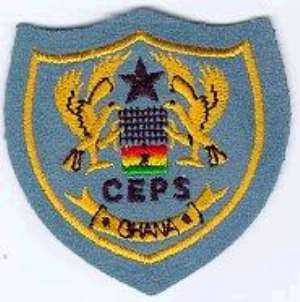 Accra, Jan. 13, GNA - Six Officers of the Customs, Excise and Prevent Service (CEPS) have been interdicted for their involvement in the clearance of un-customed frozen fish and meat from the Tema Port on December 23 and December 24 2005.
A statement Major General Richardson E. Baiden (rtd), Commissioner of CEPS, signed said a one-man committee - David Kodwo Bartels Committee - had been set up to investigate and report back by January 27 2006 adding that the decision was upon the receipt of a preliminary report submitted to his office by the National Security Council.
The officers are: Kwame Agyei, Collector; Mahama Zango, Lawrence Adjei, Francis Dotse and Noble Hlordzedor, all Junior Collecting Assistants and Martins Mullings, Collecting Assistant.
A memorandum accompanying the statement said the David Kodwo Bartels Committee was set up under Articles 16.5 (c) of the Conditions of Service for CEPS Staff.