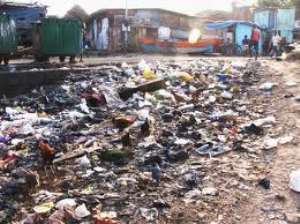 How do we care for ourselves in our various home and work when it comes to cleanliness. Ghana is among the world respected nations when it comes to leadership, productivity, safety, and tourism but with all these qualities the nation is filled with rubbish, sewage from industries dumbing anyhow, refuse dumb in gutters, and in water bodies. How do we care and manage these acts, it's possible? Can the government help to deal with this poor sanitation that makes this great nation to hang with one leg? It's possible yeah.
To begin, there must be a policy that guides proper disposal of refuse sewages from our various home, work, industrial and anywhere of which refuse is generated. The government must help to enact a law to various regional, district, subdistricts, and communities about the proper disposal of refuse materials.
How is it possible, since it's an implemented policies or law then there must be a punishment attached to the policy. With this, it will make the various individual have a rational way of disposing refuse material. Individual also will serve as a "watchdog" to each other. Also, the government must seek it that the various refuse cans and dust bin are at a vantage point for people to allocate them. To add up, the dust bin must be collected early to avoid the bin being full.
Secondly, most of the young females and males, as well as the adults aged, must be educated on the implications and conditions for improper disposal of waste matters. Since a lot of these people are ignorant and not to mention illiterate about the implications that will affect their own personal health, family, and friends, it's important and a key to educating these people on this fact. With this personal education, it will help these people get enough knowledge on proper disposal of waste materials. Education will help to persuade these people and in all achieving the statement "Prevention is better than cure".
To end with this write-up and opinion, the governmental and non-governmental organizations must cooperative as a whole to develop the refuse materials recycling mechanism. The best way to reduce refuse materials all over the nation. The proper mechanism of recycling the refuse materials into plastics goods in all will also create employment for people.
In all making policies, educating and recycling techniques by the government, the people and the society will help to improve the poor sanitation in the country.
Acknowledgment
Dr. Kingsley Preko
Dr. A.T. Derrick
School of medical sciences
University of Cape Coast
Written by
WUUGO PROSPER
Physician Assistant student
Level 200
University of Cape Coast.