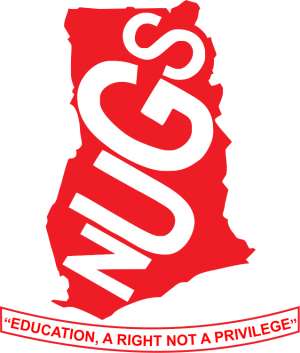 NUGS Logo
The Director-General of the Criminal and Investigation Department of the Ghana Police Service, Maame Yaa Tiwa Addo-Danquah has been widely criticized by Ghanaians following her U-turn, suggesting that her claim about the whereabouts of the three missing Takoradi girls has been misinterpreted.
Her comment has courted public anger with many civil society organizations and political pressure groups in the country demanding for her resignation.
However, adding to the many voices trending on the issue, the Ghana National Union of Ghanaian Students (NUGS) has described the CID boss as an irresponsible person who doesn't deserve to occupy such a sensitive position.
This was included in a statement issued by the NUGS President, Mohammed S. Gombila on Thursday, May 16.
"It is the interest of students and security we are talking about here! Under no circumstance should we allow such irresponsible individuals like her to occupy such a sensitive position. We want to use this opportunity to call on the government to take appropriate action and measures to remediate the issue on board," they noted.
According to the student group, the CID boss made a mockery of the parents of the kidnapped girls with her false statement and deserves to be punished.
They further called on the government to take expedient action against her.
"If a CID Boss can peddle falsehood and give out misinformation, Then it should not be a crime for individuals to give false information to the Police department? In times like this, we encourage the general public to allow the social cohesions that will unite us to override the elements that will divide us. This kidnapping issue has nothing to do with Politics and therefore Political commentators should eschew the blame game," they added.
Background
The CID boss on April 24 at a press conference is reported to have said "we know where the girls are," at the height of a public campaign to force police to give the matter the necessary attention.
Her comments were criticized by security analysts as poorly executed and unprofessional.
In an attempt to explain her failure to produce the girls following the earlier announcement, COP Tiwaa Addo-Danquah said she only made those comments to give hope to the families of the missing girls.