NDC Recruiting Vigilante Groups In 'Darkness' —NPP Reveals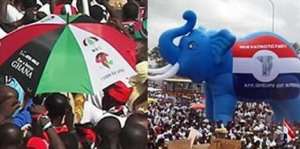 The ruling New Patriotic Party (NPP) has expressed doubts on the sincerity of the opposition National Democratic Congress ( NDC ) to disband its political vigilante groups.
According to the General Secretary of NPP, John Boadu, while talks are ongoing between the two parties and the National Peace Council, the NDC is secretly using private security organisation whose ownership are associated with the party to recruit young men as its party security men towards 2020 general elections.
Mr Boadu revealed this during an interview on Okay FM Thursday morning May 16, monitored by Modernghana.
The dominant political parties in the country, upon the proposal of President Akufo Addo, agreed to disband their respective vigilante groups which posed a security threat to the nation democracy.
Concurrently to the dialogue between the two parties with Peace Council as a mediator is an Anti-Vigilantism and Related Offence Bill laid in parliament, seeking to enact a law to make activities of vigilantes criminal.
But John Bodu said the NPP is shocked with the latest development as information his party gathered indicated the NDC is secretly training its youthful members to perform the same role as the Hawks and other related illegal groups been subject of discussing with the Peace Council.
He stated that, since the two parties have agreed among other things to disengaged the activities and the ownership of vigilante and or militia groups, the NPP was not expecting to hear anything of that sort.
The NPP General Secretary questioned the motive of NDC for allegedly training its youth with private security firms and at the same time wanting to disband the already formed vigilante groups.
The two major parties have noticeable vigilante groups including Invisible Forces, Delta Forces, Hawks, Crocodiles, Bamba Boys, Azoka Boys, Bolga Bulldozers, Sunyani Tigers, Kandaiyab Boys, among others.
The dialogue to disband political parties security groups followed the Ayawaso West Wuogon by-elections, which unknown masked men tagged themselves as National Security, where seen terrorising electorates and some members of the NDC.
While calling on the NDC to be sincere and transparent in the dialogue process to disband vigilante groups, Mr Boadu commended the party for calling for a moratorium to be placed on the importation of arms and ammunition into the country.